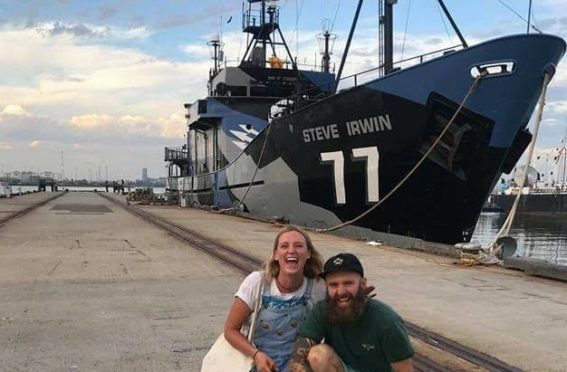 A young Aberdeen couple have swapped their nine-to-five for a life on board a conservation ship in Australia – which was built in the Granite City more than 40 years ago.
Lewis Duguid and Roshanna Bain had an unexpected taste of home when they discovered that the 194ft vessel MY Steve Irwin was built in their home city's Hall Russell shipyard in 1974.
She served 28 years as Scottish Fisheries Protection Agency enforcement patrol boat, the FPV Westra, before being taken over by the Sea Shepherd Conservation Society.
Now Mr Duguid, 28, who is originally from the Bridge of Don area of the city, said the ageing ship needs about £112,000 worth of repairs to keep her seaworthy.
Around £85,000 has already been raised to help make sure the Melbourne-anchored vessel can be used again.
Sea Shepherd had originally christened the boat the MY Robert Hunter after Canadian Robert Hunter, co-founder of Greenpeace, but it was renamed in honor of The Crocodile Hunter star Steve Irwin in 2007.
It has featured in the Animal Planet show Whale Wars which documents the crew's efforts to disrupt the Japanese whaling industry.
Mr Duguid said they "couldn't believe it" when a small plaque indicated the ship's origins.
He said: "It was really strange to come so far and still find a connection to home.
"We have been loving life on the ship. She now needs an engine overhaul so we can go out and do more campaigning.
"We moved over to Australia in September, we have known about Sea Shepherd for ages and were considering applying for about a year.
"We went to a vegan festival in Adelaide and met the ship manager and spoke to her about volunteering.
"We are really into our vegan cooking so we spoke about working in the galley and the deck.
"Sea Shepherd have done some really amazing campaigns in the past against whaling for instance so hopefully the repairs and sea trials go well and we can be out again by March."
During her time as the FPV Westra, the ship battled to protect Scottish fishing grounds for decades against unauthorised fishing.
To donate money to help the charity with its campaign, visit: https://www.mycause.com.au/page/165074/sos