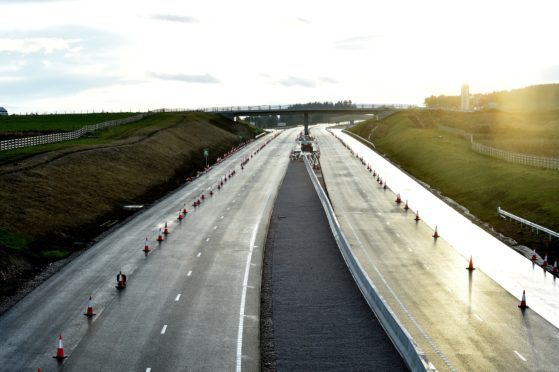 Transport chiefs have officially pushed back the completion date for Aberdeen's long-awaited bypass – revealing the road is not now due to be open until late autumn.
The fresh delay to the £745million Aberdeen Western Peripheral Route (AWPR) was blamed on recent cold weather and Storm Frank in December 2015, as well as the collapse of construction firm Carillion in January.
Economy Secretary Keith Brown told MSPs of the schedule change yesterday, a week after one of the contractors, Balfour Beatty, revealed that the spring target for the AWPR's completion would not be met.
The minister said that the consortium was aiming for completion of the 36-mile road in August, but that Transport Scotland believe it could actually now be "late autumn".
Following the statement, the Conservatives said the north-east was "none the wiser" as to whether the project would be finished in August or November, while Labour warned "late autumn could mean Christmas".
Mr Brown also revealed yesterday that the consortium, Aberdeen Roads Ltd, was making a claim to recover "substantial" costs from the Scottish Government over delays linked to public utility works.
Shadow connectivity secretary Peter Chapman described it as a "new and worrying development".
Mr Brown told Holyrood yesterday that Balfour Beatty's admission last week that the AWPR would not be completed until the summer had been "surprising" to ministers, and that urgent meetings were arranged with the contractors.
Ministers were then informed that the group had targeted August for the entire road to be open, but Mr Brown said that was based on "aggressive" programming and it would "prudent" to target late autumn instead.
The economy secretary said: "While I appreciate that residents and businesses of the north-east would wish it to be open now, I can assure them they will enjoy considerable benefits when the AWPR opens later this year."
Russell Borthwick, chief executive of Aberdeen and Grampian Chamber of Commerce, said: "It's only a matter of weeks ago that we were being told the date was still winter/spring 2018, while most casual observers could see this was unlikely.
"Now we are told  by the minister that August is the date but meantime Transport Scotland advisors are warning it's more likely to be 'late autumn'. So we still don't really know."
Mr Chapman, a north-east Conservative MSP, said "After today's statement, we are none the wiser as to whether this project will be finished in August or November."
North-east Labour MSP Lewis Macdonald said: "Even now, Keith Brown cannot give a definitive date for completion – and, given the SNP's history of spinning completion dates, late autumn could mean Christmas."
Aberdeenshire East SNP MSP Gillian Martin said she "shared the disappointment I know many constituents may feel" but that the AWPR had "only come about because of action from the SNP in government".
Jenny Laing, co-leader of Aberdeen City Council, said: "It is extremely disappointing that the AWPR is being delayed until summer 2018 despite promises only this month from the Cabinet Secretary Keith Brown that the AWPR will be up and open by spring."