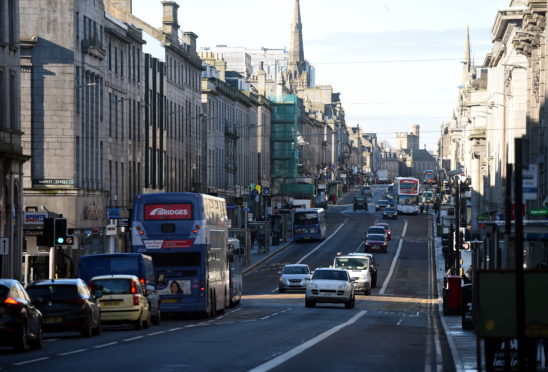 More than £900,000 will be ploughed into bringing fresh life into Aberdeen city centre streets.
The funding is being released through the City Heritage Trust programme, administered by Scottish Government body Historic Environment Scotland (HES).
Grant funding will be made available for improvements to granite buildings in areas such as Bridge Street, Market Street and King Street, supporting work already underway through the multimillion pound City Centre Masterplan.
But an opposition leader has called for owners of private buildings to do more to prevent them from falling into disrepair.
Last November, a £2.4million project to bring new life to Union Street was launched.
The five-year Conservation Area Regeneration Scheme (Cars) will provide grants to building owners of up to 60% the repair cost and up to 75% for shopfront improvements on Union Street.
Aberdeen's Lord Provost and trust vice-chairman Barney Crocket said: "The repair and restoration of our historic buildings and streets will complement the exciting projects coming through as part of the Aberdeen city centre masterplan.
"In regenerating the heart of Aberdeen, we can take inspiration from the past – the magnificence of which is all around us."
Aberdeen's award is part of an overall £8.6million being invested across Scotland.
Alex Paterson, Chief Executive of HES, said: "Through schemes such as City Heritage Trust funding, organisations best placed to understand local needs have the opportunity to not only improve the condition and quality of their local historic environment, but align projects to deliver the best possible outcomes in their communities."
Union Street CARS is considered a key part of the council's 25-year City Centre Masterplan – with longer term plans being proposed for pedestrianisation on the street.
Liberal Democrat group leader Ian Yuill, a former chairman of the heritage trust, said: "I'm delighted that HES have made this investment – I just wish it was more.
"Almost all the best buildings in the city centre are privately owned and the responsibility for maintaining them lies with the owners.
"It is welcome that public money has been allocated but my view is that owners should be doing more to bring these buildings back to their former glories so our city centre's granite heritage is preserved into the future."