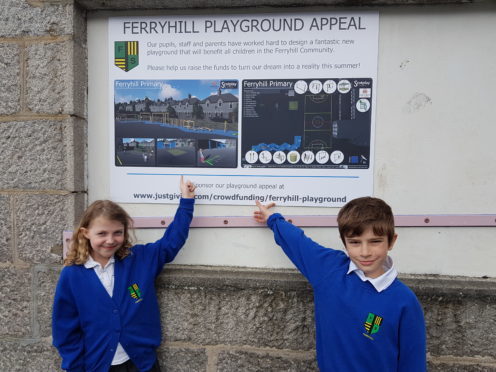 A team of tenacious parents has set an ambitious £85,000 goal to radically transform a school playground for generations of youngsters to come.
Ferryhill School's play areas have remained "largely untouched" for more than 30 years.
The parent council is now hoping the community will back their fundraising efforts to allow the new equipment over the summer.
Among the plans for the playground are an adventure trail, safe surfacing, a shelter, football goalposts and basketball hoops.
Angela Wigham, from the parent council, said: "Ferryhill is the only school in Aberdeen without an age-appropriate adventure trail and in fact, our upper stages playground looks largely the same as it did when our children's parents attended school here in 1985.
"Ferryhill pupils spend at least an hour of their school day in the playground and they deserve a space where they can have fun and be physically active within a safe, fit-for-purpose environment."
Local businesses are being urged to help raise £85,000.
It is hoped 20% of this, or £17,000, can come directly from the community.
Mrs Wigham added: "Ferryhill parents and pupils are pulling out all the stops with fundraising campaigns including a raffle, a sponsored run and a Grow a Tenner classroom enterprise project.
"We will not be able to pull this off without the support of our community and businesses operating within our catchment area.
"If we don't reach our 80% target by mid-June, the work will be broken down in phases, prioritising essential repairs, the installation of the adventure trail equipment and safe surfacing."
Anyone wishing to donate to the cause can find out more by emailing pcferryhill@aberdeen.npfs.org.uk