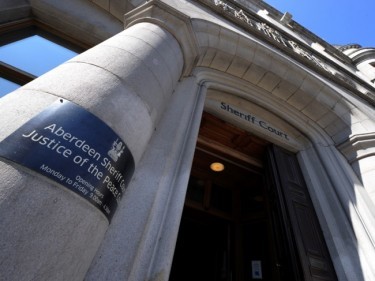 An Aberdeen man has been told he "should be ashamed of himself" after holding up his mum at knife-point.
Blade in hand, Mukitur Rahman shouted and swore at Ambia Kahnum and told her to hand over cash on October 23 last year.
The 25-year-old repeated the offence two days later, again arming himself to demand money from his terrified victim.
His family called the police following the second incident and he later admitted charges of behaving in a threatening or abusive manner towards his mother at the family home on Rosemount Square on both occasions.
He appeared at Aberdeen Sheriff Court yesterday, where it emerged he had needed the money to support a drug habit.
Fiscal Jamie Dunbar said: "The accused began asking his mother for money at 9pm on October 23 and became angry.
"He threw things around and punched items, then removed a small knife from his trouser pocket and said he would use it on someone if he didn't get money."
Rahman then left after being handed a sum of money.
On October 25, the accused again shouted and swore at his mother while asking for money and this time was given £30.
Rahman, who now lives with an aunt on Froghall Avenue, said he was addicted to drugs at the time.
His lawyer, David Sutherland, added: "He feels he has brought shame to his family."
Sheriff Philip Mann, deferred sentence for three months for Rahman to be of good behaviour.
But he told him: "How dare you treat your mother like that? That is the woman who brought you into the world and you repay her by acting in this way.
"This demonstrates how horrible drug problems are, when they can affect families like this.
"You have got to truly be ashamed of yourself. I hope you are."