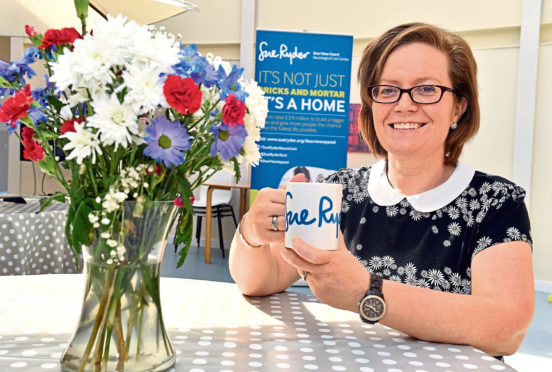 There is an endless whirl of activity at Sue Ryder Dee View Court in Aberdeen.
On any given day, the 24 residents at Scotland's only specialist neurological centre will be involved in mini games, creative writing, pampering sessions, and making trips to the cinema, the city's shopping centre or football at Pittodrie.
They suffer from a variety of conditions including Huntington's disease, acquired brain injury, serious stroke, multiple sclerosis and motor neurone disease.
But the title of a photo exhibition Don't Write Me Off, which will be showcased at BP's headquarters throughout this month, sums up their collective determination to live as full lives as possible.
The charity launched a capital appeal a year ago to raise £3.9 million which will be used to expand the facility and accommodate another 20 residents.
And, 12 months on, Sue Ryder has amassed £2.2m, including significant gifts and pledges of support from Apache, Nexen, Neptune and £500,000 from the Robertson Trust and £286,000 from the Morrisons Foundation.
As capital appeal manager, Emma Leiper Finlayson, told the Press and Journal: "There has also been tremendous backing from smaller firms towards our Brick by Brick appeal, an initiative where businesses have donated or pledged to raise £1,000 to buy a brick for the extension.
"But it is a big project, and there is still a long way to go to reach our target and make our ambitions a reality.
"The continued support of the community is required now more than ever."
Provisional work is already under way on the existing building as part of the refurbishment with the installation of new patio doors into each resident's room.
These allow light to stream into the areas and enable them to access their own personal outdoor space, all from their own room, providing increased independence and quality of life.
For those living with a neurological condition, in particular those with multiple sclerosis, light deficiency is a key contributor to the condition.
So the new doors will play a vital role in managing both the residents' physical and mental health.
But it is much more than medical care that is on offer at Sue Ryder Dee View Court; all the staff are committed to helping residents continue to pursue their passions and interests.
There is a wide range of activities run by the centre's recreational team and there is never a day where there is not a lot going on.
The nurses, carers and managers at Dee View Court do their utmost to get to know every resident, learn about what motivates them, their likes and dislikes, and help them achieve what they want to achieve.
The focus is very much based on what people can do, not what they can't.
However, the centre couldn't provide such immersive round-the-clock care without the tireless efforts of the staff who have forged a strong bond with the residents.
Julie Scoullar, a Sue Ryder clinical nurse specialist, has been with the Kincorth-based facility for the last eight years.
She said: "I hate to see people in pain or discomfort. I decided I wanted to be a nurse so that I could be part of the helping team."
Mrs Scoullar works in the self-management group, a service for people with neurological conditions who live in their own homes in the city of Aberdeen.
And she has witnessed at first-hand the need for more neurological care and the huge difference that it can make to people's lives.
Mr Scoullar added: "I have cared for relatives who were affected by strokes and I know how beneficial it would have been for them if they had been able to stay in a place like Dee View Court.
"There is also huge need for respite beds in Aberdeen and developing support services in the communities around the city would be a great help.
"The extension will enable us to provide much-needed respite care."
Elsewhere in the building, senior carer Louise Gallagher was bringing her usual professionalism and skill to her diverse range of duties.
She has been at Dee View for the last two years, and clearly relishes being able to put a smile on the residents' faces.
She said: "My day-to-day role is always very busy.
"It starts with organising the team, getting all the information you need from the night shift, then starting to get the residents up, whether it is for showers, or breakfast.
"At the start of my career, I wanted to learn more about neurological conditions and have a better understanding of them. I never imagined I would fall in love with my job.
"My favourite part of being here is when you feel you have made a difference to somebody's day."
That approach resonates around Dee View Court. Many of the residents require constant support, but nothing ever seems to be too much trouble.
Jude Scott has been a practice educator at the centre since January 20017. She is passionate about improving the quality of life for those with neurological conditions and training her team to deliver specialist care.
She said: "Every day here is something special, something different. I will always remember one of our residents in an electric wheelchair taking my therapet dog, Mac, for a walk up and down the corridor on his lead.
"She loved walking him and they were both totally exhausted afterwards. It was a really fantastic moment for me to see her enjoyment and pleasure from doing something as simple as walking a dog."
Work will commence on the expansion in the summer and will be completed by the middle of 2019.
Valerie Maxwell, Dee View Court's centre director, said: "We are absolutely over the moon to pass the £2.2m milestone and it means so much to everyone here.
"We have been delighted and astounded by the support we have received to date.
"But we still have a long way to go and need to raise an additional £1.7m to build the extension and provide services for people with neurological conditions in Scotland.
"To do this, we need the support of the local community, individuals, corporate companies, organisations, and community groups to donate, volunteer and get involved. Together we can help more people get the care they need."
With an estimated one million people currently living with a neurological condition in Scotland, demand for services far outstrips supply and that situation is likely to escalate in the years ahead.
That means there is a continuous waiting list of people who could be assisted at Dee View Court if only there was space.
This is why there is the need for increased and enhanced facilities. And with the waiting list for Sue Ryder Dee View Court continuing to rise, the staff argue that expansion of the building cannot happen soon enough.
Sue Ryder Dee View Court has welcomed some distinguished visitors during the last 12 months.
Last September, the Queen made a tour of the facility, where she met residents, staff and board members, who have been working to expand the charity's care in the north-east of Scotland.
Pamela Mackenzie, the organisation's director of neurological services, was very pleased at the royal visit.
She said: "We were absolutely delighted Her Majesty The Queen was able to visit us to learn about the invaluable work and services that we provide here in Aberdeen and find out about our plans for the future.
"It has been a very special day for our team, who all work tremendously hard to give people affected by neurological conditions the care and support they need."
A football fan left with brain injuries after a motorbike crash celebrated his 30th birthday in style in February – with a visit from Aberdeen FC captain Graeme Shinnie.
Mark Cordiner was thrown from his bike four years ago, suffering life-changing injuries. But his love for the Dons remains strong, and he was thrilled to receive a birthday card signed by all the Pittodrie stars.
He was also visited by team skipper Mr Shinnie and vice-chairman George Yule.
Mr Shinnie said: "As somebody who attended Kincorth Academy, I have a personal interest in Dee View Court.
"Sue Ryder plays such an important role in the community here and it's great to see so many Dons fans among both the residents and the staff."
How to support the Sue Ryder Dee View Court Appeal
If you want to help give more people in Aberdeen living with a neurological condition the care they need and deserve, you can:
Make a donation:
Online at www.sueryder.org/deeviewappeal
Send a cheque made out to 'Sue Ryder', to: Sue Ryder Dee View Court, Caiesdykes Road, Kincorth, Aberdeen, AB12 5JY.
Buy a Brick
Help us build a bigger Dee View Court, brick by brick. A donation of £1,000 = 1 brick.
Schools, companies and individuals can donate or pledge to raise £1,000 to buy one brick. For more information on how to get involved, visit: www.sueryder.org/brickbybrick
For more information, email deeview.appeal@sueryder.org or telephone: 01224 245 920.