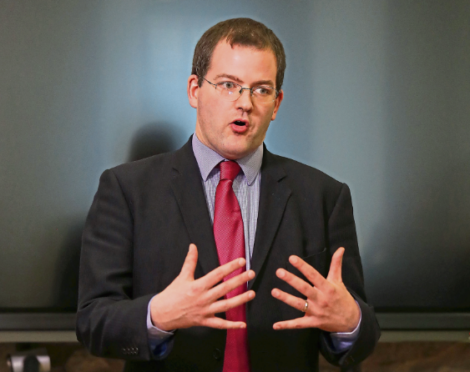 Aberdeen Donside MSP Mark McDonald has been advised to consider legal action against the SNP and a former colleague following a fresh probe into his conduct.
The Press and Journal understands the former early years minister has been told privately by SNP MSPs and others to think about going to the courts over allegations made against him and the handling of the party's investigation into his behaviour.
Mr McDonald, who has employed the services of a solicitor since the SNP launched an inquiry into complaints against him last year, is thought to have been urged to consider bringing a defamation action against James Dornan.
Former allies of Mark McDonald call for resignation – but former provost backs him
It follows comments made by Mr Dornan, SNP MSP for Glasgow Cathcart, in the press and in a complaint letter to Holyrood's standards committee, in which he alleged that Mr McDonald had waited outside parliament for a staff member and that his actions had contributed to an illness she suffered.
An inquiry by the Commissioner for Ethical Standards in Public Life is believed to have cleared Mr McDonald of some of the complaints, and called aspects of Mr Dornan's evidence into question.
However, Mr McDonald is expected to be sanctioned – and potentially suspended – by MSPs on the standards committee tomorrow after the commissioner concluded that he had harassed the employee by sending inappropriate messages on social media.
The Sunday Times has also reported that the former Aberdeen councillor has been criticised in the report for borrowing £470 from another Holyrood staff member, and taking three weeks to pay it back.
The standards committee asked the commissioner to investigate Mr McDonald's conduct after Mr Dornan lodged an official complaint in March, and it will consider the findings of the probe and any punishment tomorrow.
As well as a potential legal case against Mr Dornan, Mr McDonald is also believed to have been advised to consider taking action against the SNP over its own four-month internal investigation amid a suggestion that it did not follow the party's established disciplinary procedures.
Mr McDonald, who quit the government in November when a complaint was made and has since apologised for his conduct towards two women, previously expressed frustration at the way the probe was handled.
And while many former colleagues have condemned his conduct and urged him to quit Holyrood, it is understood that several others have remained in contact with him and have privately raised concerns about the process.
Last night, one said: "Certainly from what I hear it could have been handled better."
Meanwhile, a source close to the Aberdeen Donside MSP, who sits as an independent after resigning from the SNP in March, has questioned Mr Dornan's statement that he was left "furious" with Mr McDonald over the messages sent to a staff member in late 2016.
It has emerged that the two MSPs were photographed campaigning together in East Renfrewshire months later in May last year, and it has also been claimed that they attended last year's Scottish Cup final as part of the same group, and exchanged a number of social media messages.
"It doesn't make any sense. Nobody would have thought James Dornan had a problem with Mark given their friendly interactions both in person and on social media platforms," the source said.
However, Mr Dornan said in his complaint letter that his employee had initially insisted that he did not take his concerns about Mr McDonald's conduct further when they were first raised.
The SNP, Mr McDonald and Mr Dornan declined to comment.