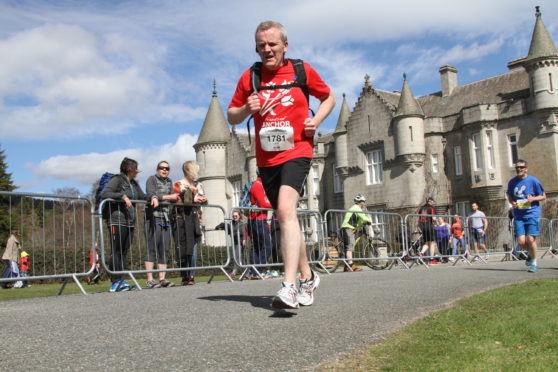 A north-east man who conquered cancer is preparing to tackle a half marathon to mark the anniversary of completing treatment.
Joe Boyle was diagnosed with cancer in his throat and neck last May and underwent three months of grueling radiotherapy and chemotherapy.
The 45-year-old is now in remission, and is making the most of his new lease of life by taking part in the Simplyhealth Great Aberdeen Run later this summer.
Mr Boyle only took up running earlier this year, and wants to raise money for two cancer charities which help others through the same ordeal he experienced.
He said: "I had never done any running at all prior to the beginning of this year.
"But after my cancer treatment, I wanted to give myself a target, something that would help improve my fitness and make me feel better."
The Great Aberdeen Run falls on Sunday, August 26 – which is the exact date the Newburgh resident finished treatment last year.
Mr Boyle plans to take on the half marathon, which is a distance of 13 miles, and he admits the challenge represents "a big step up".
The project director at Scotia Homes aims to raise £10,000 to be split between the Friends of Anchor and Macmillan Cancer Support charities.
"I want to give something back to help others who find themselves in the same situation as I was in", he said.
"Running has given me a clear purpose and something positive to focus on.
"It has made me physically stronger and fitter, which helps with the recovery from my treatment, but the mental benefits have also surprised me.
"It makes me feel much better all round and I would certainly recommend it to anyone who has come through any sort of similar treatment to mine.
"I will probably keep going with charity work after this as I realise how important it is."
More than 7,000 people took part in the inaugural Great Aberdeen Run last August, with at least double that number cheering on participants from the sidelines.
Many shops and restaurants experienced an increase of up to 30% in trade compared to a normal weekend as thousands flocked to the heart of the city.
People can sign up to enter the event at greatrun.org/aberdeen