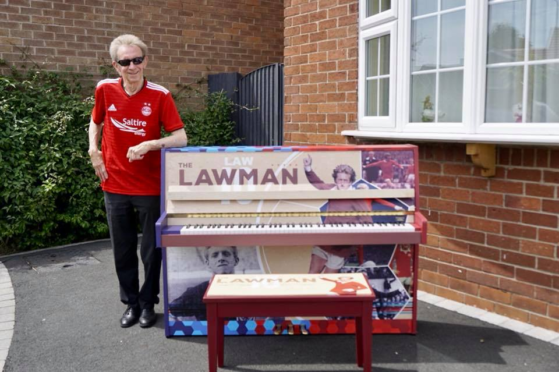 The Queen's official piano tuner has created a special instrument celebrating one of the north-east's most famous sons.
Gordon Bell, who runs Gordon Bell Pianos on Rosemount Viaduct, has worked with Duff Street-based designers Passell to make a one-of-a-kind Denis Law piano to raise money for two life-changing charities and mark Mr Law being given the freedom of the city of Aberdeen last year.
Mr Bell, who is tasked with the upkeep of the Queen's piano at Balmoral Castle, hopes to auction off the piano later this year in aid of the autism charity Friendly Access and the Friends of the Special Nursery – an organisation that supports the neonatal unit at Aberdeen Royal Infirmary.
And the talented piano expert even managed to get The Lawman himself to sign it when he visited him at his home in Manchester while on a whistle-stop tour of all the UK clubs the famous footballer played at over the course of his record-breaking career.
Mr Bell, 42, said: "We've taken it around all of the stadiums of the UK clubs that Denis played for – Huddersfield, Man City and Man United, as well as Hampden Park because he played for Scotland – to raise awareness of our fundraiser and celebrate him getting the freedom of the city of Aberdeen last year.
"It started off as a pretty dull-looking piano, but it's now really quite the conversation starter.
"In November it's going to be auctioned off at the Chester Hotel and we'll be splitting the cash between the two charities. I hope it sells for as much as possible, because it's certainly a very unique piano."
And when the piano man met The Lawman in Manchester, he delivered some much-needed rations for the Aberdonian.
Mr Bell added: "It was a real honour to visit Mr Law at his home, so we brought him some special gifts from home – some local beers, the new Aberdeen strip and a dozen butteries.
"He made us a cup of tea and told us his special technique of using a fork to perforate the butteries once they're toasted and get even more butter into them – he's such a character, and an absolute gentleman."
To donate to the piano shop's fundraiser and help make a difference to the two charities, text DLAW10 £10 to donate £10, or DLAW10 £5 to donate £5 to 70070.