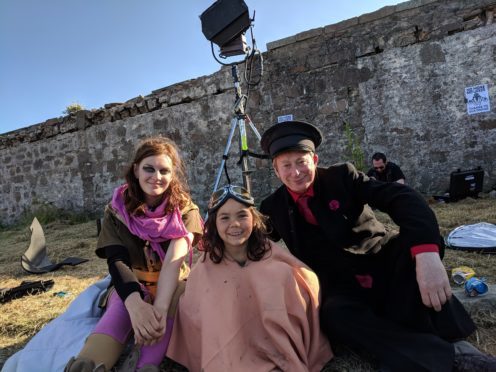 Iconic north-east landmarks feature in a new film set to grace the big screen.
The filming of Children of Chronos saw the crew and cast shooting scenes at places such as Torry Battery and Balmedie beach.
Crow House Projects, a community interest company, makes films in the north-east, and finished filming on the sci-fi fantasy adventure last week.
The new film was shot in and around Aberdeen, with Balmedie Beach, Torry Battery and the loft of Andrew Begg's shoe shop in Upperkirkgate featuring prominently.
Film director, Jamie Sundance said: "We finished The Anatomist (formerly known as The Burkin Hoose) and we needed something else to work on.
"We had this script and it kept growing and we cut it back and it kept growing again".
Children of Chronos is now being edited, with visual effects to be added to the ambitious project.
The film will be kept under wraps until it has gone through a festival circuit next year.
It is expected to be shown at the Belmont Cinema.