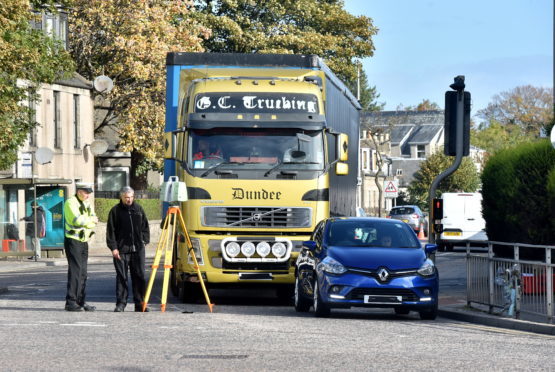 Police carried out a crash reconstruction yesterday to try and piece together the final movements of a great-grandmother knocked down and killed by a lorry.
Mary Allan, 83, had been visiting the TSB bank on King Street just before she was struck by a lorry on Monday, September 10.
Yesterday, police returned in an attempt to get a better understanding of how the tragic incident unfolded.
Traffic was restricted on King Street and the nearby St Machar Drive, with large sections taped off outside the bakery and the roundabout. Floral tributes are once again as police revisited the scene to gain a better understanding of what took place.
A heavy police presence could be seen all along the two roads from around 8.45am to 10.45am as investigators re-enacted the fatal incident.
Large sections of the road were taped off outside the bakery at the King Street and St Machar Drive roundabout, where floral tributes are still affixed to a barrier close to where Mrs Allan – known as Molly – died.
A lorry was put in place close to the flowers, and police with video cameras could be seen recording themselves walking across the road in front of the vehicle as part of the reconstruction.
Onlookers from the local community could be seen watching the police carry out their inquiries.
Last night Mrs Allan's daughter, Donna Emslie said: "Police have been in touch to tell us that they've got what they needed from the re-enactment, so they'll have a better insight now into what happened now, because obviously they only dealt with the aftermath at the time.
"So they're taking their findings today and it's being taken to the procurator fiscal, and they'll take it from there, I believe.
"All we can do is wait for the outcome of that, at this point.
"Her funeral was held on Wednesday, and the turnout was overwhelming.
"We were lucky that we had two humanists working together because one had to do a service in the car park, at the same time as another was going on in the chapel – because we had just that many people come out to say goodbye.
"She was a very popular woman, in fact it was a little bit overwhelming, especially with the different kind of circumstances that surrounded it."
Mrs Allan has been described as a "well kent" member of the Bridge of Don community, and was a regular at the British Legion.
She is survived by her husband Ian, their three children Ian, Paul and Donna, three grandchildren and one great-grandchild.
Police have urged anyone who witnessed the incident to phone the police on 101.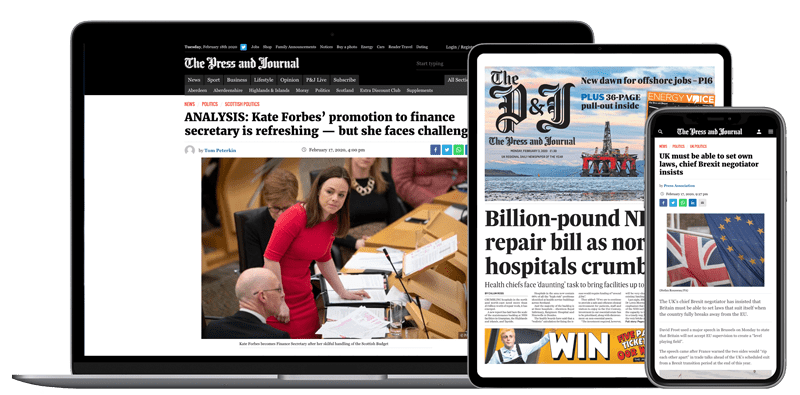 Help support quality local journalism … become a digital subscriber to The Press and Journal
For as little as £5.99 a month you can access all of our content, including Premium articles.
Subscribe