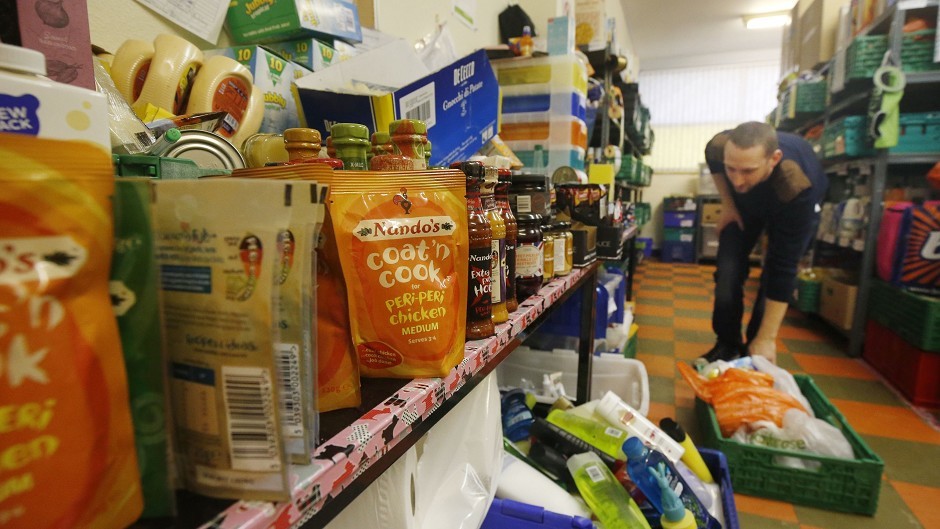 Oil rich Aberdeen is now home to 20 foodbanks, outnumbering other Scottish cities, shock figures have revealed.
The energy capital of Europe has long enjoyed a reputation for highly-paid jobs and relatively low poverty levels compared with the rest of Scotland.
But now in a new leaflet about the incoming Universal Credit, the city council have listed 20 organisations where free food parcels can be picked up.
In contrast, Edinburgh has only six foodbanks listed online, although churches and other charities may also give out packages.
Other areas of the north-east have also seen a rise in foodbanks since the oil and gas downturn of 2014, with the likes of Banchory, Inverurire, Ellon and Peterhead also giving out free food.
Last night, politicians claimed there was "hidden deprivation" in the region – which will only worsen following the controversial roll out of Universal Credit.
But a business leader said that some confidence appeared to be returning ,with the oil barrel price now over $80 – from a low of below $40 at the end of 2015.
He noted there is a "lag" effect where it can take some time of improved fortunes before people feel the benefits in their pockets.
However much poverty is deeply entrenched.
---
>> Keep up to date with the latest news with The P&J newsletter
---
In February, 2016 the P&J revealed shock figures that residents in the affluent community of Mannofield live on average nearly 17 years longer than those in the poorer Woodside area of the city.
The Universal Credit system is due to replace many existing benefits but has been criticised for the long delays in payments for some.
Last night Aberdeen Donside independent MSP Mark McDonald said: "The fact we have twenty organisations operating food parcel relief in the city shows the level of poverty which continues to exist in Aberdeen, masked by the wealth that is generated for some.
"There is a genuine concern that, as the economy of the north-east improves, not everyone is seeing the benefits and many are at serious risk of being left behind, something which will only be compounded further by the rollout of Universal Credit.
"The very fact the Tories have had to give additional money to Citizens Advice shows that this policy is a failure and it should be ditched before any more damage is done."
Aberdeen North MP Kirsty Blackman said: "It is shocking how much poverty can really be found in Aberdeen.
"It's obvious that, with 20 food banks listed in our city, nowhere is safe from the austerity-obsessed Tory Government.
"The calamitous implementation of Universal Credit on top of the capping and freezing of benefits will serve to drive more people into worse poverty and deprivation."
But Conservative north-east MSP Tom Mason said: "The whole point of Universal Credit is to get more people into work and to make sure that work pays.
"However, we know there have been some issues with the roll-out.
"The vast majority of payments are made online, but some people have experienced difficulties.
"That's why Esther McVey has announced £39m in new funding for the Citizens Advice Bureau to help those who are struggling with Universal Credit
"The state cannot and should not work in isolation, and this money will ensure that people in Aberdeen and all across the UK get the best possible support."
A UK Government spokesman said: "With Universal Credit, people are moving into work faster and staying in work longer than under the old system.
"Since 2010 over 3.3 million more people are in work across the UK, and the proportion of people in Scotland living in absolute poverty is at a record low, including for children.
"The reasons for food bank use are complex, so it's misleading to link them to any one issue. The best way to help people improve their lives is to support them into work, and Universal Credit gives people the flexibility to increase their working hours while keeping more of the money they earn.
"The Scottish Government now has significant welfare powers, including to top-up existing benefits, pay discretionary payments and create entirely new benefits altogether."
Adrian Watson, chief executive of the Aberdeen Inspired business body, said there were some early signs of recovery.
He said: "I think there is still some way to go but the feedback we are getting from businesses is that they are beginning to feel things stabilise a bit.
"It is still very much a mixed picture and we are not complacent at all but we are hopeful."
Aberdeen Labour councillor Lesley Dunbar represents the Hilton, Woodside and Stockethill ward, which has historically struggled with impoverished areas.
She said: "Although Aberdeen is seen as an affluent place to live we should never forget an estimated 18% of children are living in poverty and that they are unevenly distributed across the city's wards – ranging from low of 6% to a high of 29%.
"When the administration introduced its anti-poverty strategy, Towards a Fairer Aberdeen that Prospers for all, we did so in the full knowledge that SNP austerity was having a disproportional effect on our citizens, given Aberdeen remains the lowest-funded council in Scotland.
"The full impact of Universal Credit is not yet known, but the council is committed to ensuring that those people most affected by welfare reform changes are provided with the advice and support services they need."
Aberdeen foodbank worker speaks out
One Aberdeen foodbank worker said she had seen "massive changes" since returning to the city after the cash rich days of the 1980s.
Dot Goldie, now the office manager at Instant Neighbour on St Machar Drive, left the city in 1987 and returned this year, describing the difference as "shocking".
Back in the 80s, she said there had been a glut of oil, while jobs in the North Sea were relatively plentiful.
Since the collapse in the barrel price in 2014, however, there has a significant impact upon all industries in the city, from directly linked manufacturers to service industries like pubs and clubs – though there have been signs of recovery and returning confidence.
Ms Goldie said: "I think there has been a big impact since the recession in oil and gas hit. Aberdeen was a bit more sheltered from the rest of the country before but the oil price has hit hard.
"I moved away in 1987 and only came back in February this year. There have been massive changes.
"It was shocking to move back. I drive along North Anderson Drive everyday and there are still lots of fancy cars, so there is still money in the city, but there are definitely more poor people than there used to be.
"Now around one in ten families in Aberdeen are in poverty and we have already handed out 3,988 parcels this year.
"This is only October and we have registered 476 new clients in the city this year.
"We work on a self-referral system, so we don't know the backgrounds people come to us from, but we get a lot of people laid-off from the oil industry to volunteer with us just to give themselves something to do."