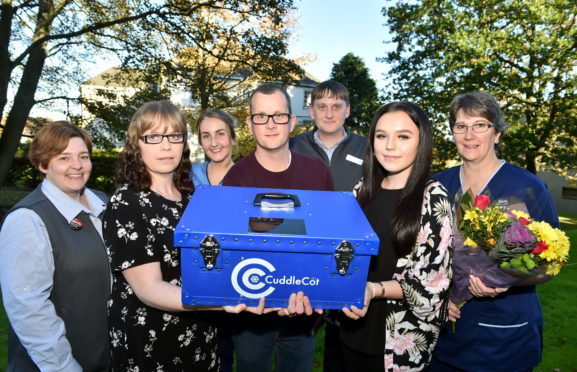 A brave couple who described losing their newborn child as the "hardest" time of their lives have donated a vital piece of kit to support others in the same situation.
Laura Cunningham and Tony Stephen lost their son Charlie two years ago after he was born at just 15 weeks and five days old.
Spurred on by 14-year-old daughter Katie, the trio have now raised thousands of pounds for specialist Cuddlecot equipment which will be used in hospitals in Aberdeen, Elgin and Inverness.
The £1,600 refrigerated cots are designed to allow parents more time with their babies before they are buried or cremated.
Miss Cunningham, of Turriff, said: "Losing our son was the hardest thing to go through but with the fantastic suport from the staff at the hospital and the help they gave us to make memories through taking photos, hand prints and helping arrange our little boy's funeral we wanted to say a massive thank you.
"And the best way we thought was to give a Cuddlecot to the unit and in turn this would help so many other families at their sad time too.
"On the day, we felt the care we got was above and beyond, and helped us make memories we didn't think we would get."
After getting in touch with her local Co-op, Katie helped raise almost £7,000 for the cause with branches between Aberdeen and Inverness all getting involved in the fundraising.
She said: "We have had a few bumps in the road but everyone has been amazing and I can't thank them enough.
"I'm so glad to see what we've managed to achieve."
Mr Stephen hopes that by speaking out about his experience of losing a baby it will help break the taboo for others as well.
"People can be scared they are going to upset you," he said.
"But we'd rather people said something than nothing at all."
Miss Cunningham added: "They don't want to say the child's name but by doing that it's like they never existed, and they did."
Specialist bereavement nurse at the hospital, Myra Kinnaird, said: "This donation will allow families to keep their baby on the ward for longer.
"Every hospital should have one and we are very lucky to now have two.
"It's been a long haul for Laura and Tony's family to get through all that they have and it's an amazing thing they have done."