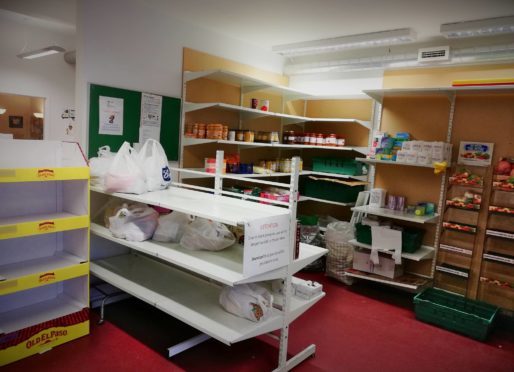 An Aberdeen food bank is urgently appealing for donations following a record-breaking rise in people queuing up for emergency supplies.
Last week, 179 people visited the CFINE's headquarters on Polynernook Road in Aberdeen for vital food parcels on just one day.
Dave Simmers, CEO of the social enterprise, said the number was "gobsmacking", and more than double the usual daily demand.
He said: "Records have been broken. We usually distribute around 80 emergency parcels a day.
"Having 179 people come in last Wednesday was the highest number of emergency food parcels ever distributed – the second highest amount was 120 in 2017.
"It would be a nightmare if we didn't have enough food for people who truly need it.
"In that case we would be forced to prioritise people, which would be terrible
"We just cannot keep up with the current demand without extra help."
CFINE distributes more than 15,000 emergency food parcels annually.
Over the summer CFINE, along with fellow food bank charities Instant Neighbour and Cyrenians, were hit by an increase in demand due to the summer holidays.
During the period of shortage, CFINE's number of parcels being distributed each day rose from, on average, 60-80 each day to nearer 100.
Earlier this month, it was revealed that Aberdeen is now home to 20 foodbanks, outnumbering all other Scottish cities.
In a leaflet issued to residents about the upcoming Universal Credit, the city council has listed 20 organisations where free food parcels can be picked up.
Edinburgh has only six foodbanks listed online, although churches and other charities may also give out food packages.
The Universal Credit system is due to replace many existing benefits but has been criticised for the long delays in payments for some.
Mr Simmers added: "We are anticipating the case that Universal Credit will increase also demand.
"Across the country it could lead to increased household debt, the lowering of income and even more people needing to use food banks."
A spokeswoman for the UK Government said: "The reasons why people use food banks are complex, so it's wrong to link a rise to any one cause.
"Universal Credit is working for the vast majority who claim it. We've already made significant improvements to Universal Credit.
"We continue to spend around £90 billion a year supporting people who need it, including those who are out of work or on a low income.
Universal Credit replaces six existing benefits – Income Support, Income-based Jobseeker's Allowance, Income-related Employment and Support Allowance, Housing Benefit,
Working Tax Credit and Child Tax Credit – with a single payment.
Donations to CFINE can be made at 2 Polynernook Road, Aberdeen.
To find out more go to CFINE's website.
---
CFINE have put forward a list of items that the centre "desperately" needs for their emergency food parcels.
The items include:
Tinned meals (such as macaroni, mince and steak)
Rice
Pasta
Soup
Baked beans
Cooking sauce
Nappies
Soap
Deodorant
Toothpaste
Shaving products