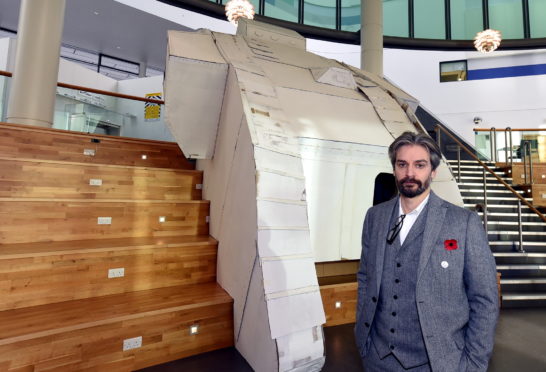 A near life-size tank made of cardboard went on display at an Aberdeen university yesterday to celebrate the quick and creative thinking often needed in times of conflict.
Staff at Gray's School of Art collaborated with local schoolchildren to create the piece, which stood alongside a convoy of nearly 100 ships decked out in Dazzle camouflage.
Acknowledging that their First World War naval vessels were too big to hide, military bosses decked them out in a confusing black and white pattern instead.
The unusual geometric shapes tricked enemies into thinking the ships were heading in a different direction, or made them unable to tell where one boat ended and another started, meaning they could not properly aim torpedoes.
Senior lecturer Craig Ellis, who has been organising the project, said: "The exhibition tries to commemorate the sacrifices of war while celebrating the great innovations that have sprung from conflict – 'necessity is the mother of invention'."