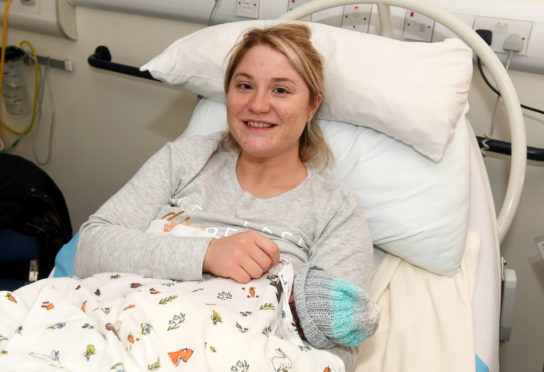 It was a race against time for Vanessa and Stuart Bremner, whose baby Jack was born just an hour after they made it to hospital on New Year's Day.
The couple, who already have a three-year-old daughter, Lucy, said they "probably got a speeding ticket" in their rush from Stonehaven to Aberdeen Royal Infirmary's Midwife Hospital.
Baby Jack Bremner came into the world at 9.01am.
The couple, who have been married nearly four years, opted to use a water bath instead of the standard birthing procedures they used with Lucy.
Mrs Bremner, who is founder of Aberdeen based business 'The Juicing Company,' recommended the process.
She said: "It was definitely a calmer experience than Lucy's."
"The midwives were amazing and it was really such a peaceful and idyllic birth.
"It only took thirty minutes or so. It all happened very quickly.
"We had made up a playlist of music we wanted, but by the time we got to the ward we didn't really have time to even set it up."
The Bremners had held off coming to hospital, though Mrs Bremner started having contractions at around 10pm on Hogmanay.
They didn't want to leave their daughter Lucy so late in the night and instead settled in for the evening, falling asleep before the countdown to midnight.
At the bells, and with the Stonehaven celebrations in full swing, the entire family were roused by the sound and watched the local firework display from inside their house.
There had been a chance the family would miss the fireworks completely, as Jack was in fact due to be born ahead of the 31st.
After waking up the following morning, the couple knew it was time to make tracks and left their house shortly before 7.30am.
Mr Bremner, 36, who works as a subsea engineer, said: "At one point I thought the baby might have to be born in the car.
"I'm pretty sure we got a speeding ticket on the way to the hospital, we just wanted to get to the ward as quickly as possible."
The ward that Mrs Bremner, 27, gave birth in was actually the one they were briefly placed in during daughter Lucy's birth three years before.
Lucy, who had been staying with her aunt, was due to visit her younger brother yesterday afternoon.
Mr Bremner added: "Lucy has been really excited about the new baby.
"She's been playing with her dolls for weeks in preparation and has been talking about him non-stop."
The proud parents were due to spend a night at the hospital before travelling back to Stonehaven to introduce Jack to his new family.