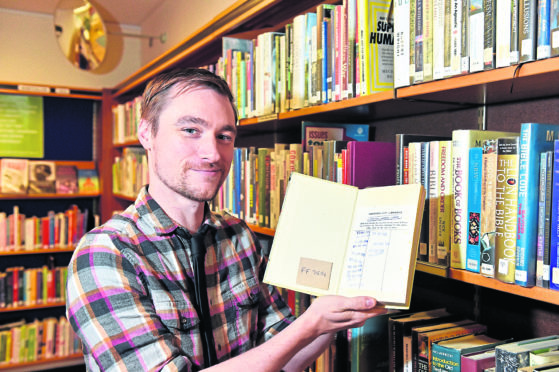 It may have taken an "eternity" but staff at Aberdeen Central Library are nevertheless thankful that a forty-year-overdue book has been returned to them.
A copy of A Touch of Danger, written by James Jones, was borrowed from the city library on December 12, 1978, but only made it back to its home shelf on Thursday.
The novel was dropped in to Ferryhill Community Library on December 29 by an "anonymous donor," then transported to Aberdeen Central Library.
The borrower of the novel fortunately avoided a heavy penalty, due to the council's policy on capping fines at £3.60.
Furthermore, the book was so old that staff had no way of knowing who last borrowed it, as the service switched to a new digital system in 1978.
Jones is perhaps best known for his novel "From Here to Eternity", which was turned into an Oscar-winning movie starring Frank Sinatra and Burt Lancaster.
Dallas King, events and programming officer at Aberdeen Central Libraries, said: ""It is so old that it's not currently registered on our system.
---
>> Keep up to date with the latest news with The P&J newsletter
---
"The novel is in reasonably good nick considering its age, so we could potentially put it back into circulation.
"We have no idea who dropped it off at Ferryhill library, but we think it might have been a case of someone spring cleaning who stumbled across it.
"It might have taken an eternity, but we are glad to have the novel back.
"We are quite nice about situations like these and fines are now capped at a maximum of £3.60 per book.
"That being said, we did work out, if charged daily rate, the fine total would have been £1,000."
Fiona Clark, library and information services manager,  added: "The 1970s was the heyday of crime novels.
"This copy of A Touch of Danger was taken out fairly frequently before it enjoyed a rather long stay away from the library.
"We will hopefully find out who was on duty at Ferryhill Community Library when it was returned and be able to find out more about where the book has been for so long."
A Touch of Danger, which followed a private eye called Frank Davies, was in fact not the longest overdue book the library has had in its history.
That record is held by a 64-year-overdue copy of A Window In Thrums by Kirriemuir writer JM Barrie.
The novel was spotted in a charity shop in London and posted back up to the Granite City.
It is currently kept within a glass case in Aberdeen Central Library, with staff debating if A Touch of Danger should join it, or return to shelves.
And bookworms are hanging onto library books for extended periods of time across the country
Last year a book was finally returned to Orkney Library more than 43 years after it was meant to be brought back, after its borrower found it during a house clearance.
The novel in question was the biography of local poet and writer Edwin Muir, by P.H Butter, and due to be returned before October 24, 1973.
At the time, library manager Gary Amos said: "The person who returned it was amused.
"There was no fine – it was from too long ago.
"These things happen periodically."
He added: "It will be looked at carefully, before going back into stock."
The same year librarians at Shetland Library were surprised after a book was returned to them 36 years after it was stamped out for borrowing.
A 1961 copy of Highland Folk Ways by I F Grant was borrowed in October 1981, and was finally reunited with its home library in Lerwick, again following a house clearance.
Senior library assistant, Catherine Jeromson, said the customer was a "little embarrassed" about the situation.
She said: "It's really good that customers are honest and bring the books back.
"The book was in pristine condition and it could've been borrowed the previous week rather than being borrowed 36 years earlier.
"If anybody's too embarrassed to say to our face 'I'm really sorry I've had this for 30-odd years' they can put it in the returns bin outside."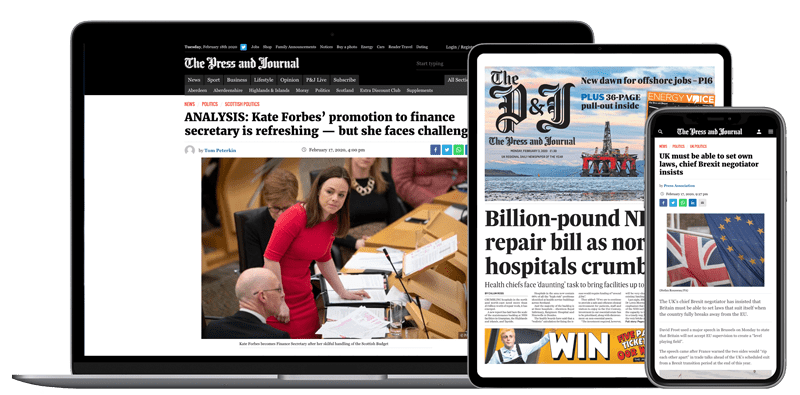 Help support quality local journalism … become a digital subscriber to The Press and Journal
For as little as £5.99 a month you can access all of our content, including Premium articles.
Subscribe