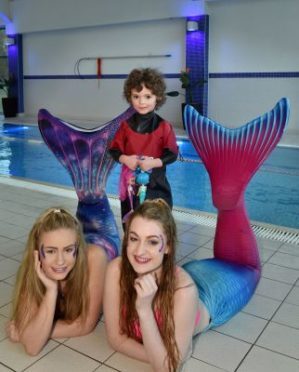 A children's entertainment firm has expanded a scheme which allows children undergoing cancer treatment to go swimming, after being granted a permanent base at an Aberdeen pool.
For children with the disease, and other serious conditions that require feeding tubes, swimming is normally something they have to give up as the tubes cannot get wet.
However, staff at Ellon-based Love Rara have made it their mission to get them back into the water wearing specially-made suits which keep the equipment dry.
And, following a few successful trial runs, it is now a service they are rolling out after being able to rent a space to store the suits at the Beach Leisure Centre in Aberdeen.
Love Rara owner Zara Grant has been busy gaining swimming certificates in preparation for the launch.
She said: "We were lucky enough to secure this space, and the suits are now there permanently.
"Local children, or even those on holiday, can put on the gear and go in the pool.
"We have seven suits, which are all different sizes, and will help to create a bit of normality for families who are going through such a tough time."
Sport Aberdeen runs the leisure centre and its director or community leisure operations, David Selkirk, welcomed the development.
Mr Selkirk said: "We are happy to be working alongside Love Rara and are pleased to be able to provide facilities at the Beach Leisure Centre.
"The specially designed dry suits will create opportunities for children with health conditions to take part in swimming, which is a life skill that no child should be denied."
There will be a launch event on Saturday at the Beach Leisure Centre, from noon to 4pm, where people can visit for free and learn more about Love Rara's activities there.