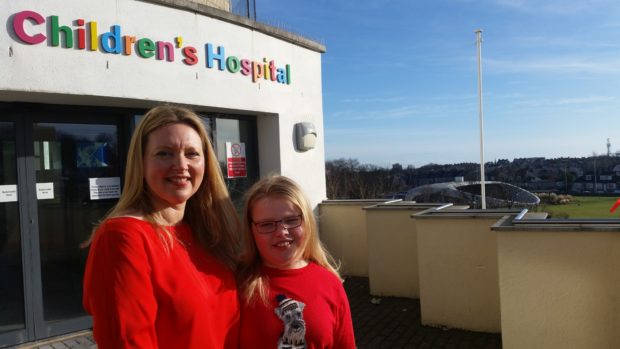 Children's cardiac care across Aberdeen, Aberdeenshire and Moray has been left "in the Dark Ages" and urgently requires more support before mums and dads are plunged into poverty, according to the founder of a life-changing heart charity.
Jane Gibson, the founder of the Rebecca's Rainbow Heart Ebstien's Anomaly Trust (RRHEAT), yesterday handed NHS Grampian more than £55,000 to improve the care of children like her daughter Rebecca, who was born with a rare congenital defect in her heart.
Mrs Gibson, 49, established the charity to improve the support available for youngsters in the north-east who live with cardiac conditions after dealing with many hardships when Rebecca, now 13, was younger and undergoing numerous major operations.
Thanks to her fundraising efforts over the years, the health board now offers the services of Scotland's first community cardiac paediatric nurse, who has assisted in the care of 350 children across the north-east.
But although the picture for young cardiac patients has vastly improved since Rebecca was little, Mrs Gibson believes much must still be done by the NHS and the Scottish Government to help Scots children.
Figures from the British Heart Foundation (BHF) reveal there were 23 heart or circulatory deaths of children from neonatal up to 14 years of age in Scotland in 2017.
In the same period, there were 21 deaths from all cancers.
Mrs Gibson, who has a background as a cardiac nurse, said: "Children's heart services are just not being properly funded by the NHS in Scotland.
"They are stuck in the Dark Ages and we are trying to get the Scottish Government to stand up and take notice.
"As the children struggle to receive the care packages they need, many parents are floundering.
---
>> Keep up to date with the latest news with The P&J newsletter
---
"The level of care now – with the help of the community cardiac paediatric nurse – has dramatically improved and there's been a lot of positive feedback.
"People have described it as a lifeline and have said to me that they would have no idea what they would do if the service was not there, but generally most people just cannot believe that the Scottish Government and NHS boards do not provide this essential, basic care for children that have such complex conditions."
Mrs Gibson said during her time going back and forth to Glasgow's Yorkhill hospital when Rebecca required specialist surgery, she found that many parents had given up everything for their children.
She added: "What struck me a lot during my time going back and forth to Yorkhill was the number of mums and dads who had to give up their jobs to be there for their children and as a result they were tipped into poverty."
The money raised for yesterday's enormous donation to NHS Grampian was made possible by the Braveheart Ball, which was held in Inverurie last year.
Caroline Reid, nurse manager for community children's nurses, at NHS Grampian, said: "The RRHEAT charity has been supporting a community children's nurse for cardiac children for almost two years.
"This donation today will allow us to further develop services for cardiac children in NHS Grampian.
"We're incredibly grateful to the work of the Braveheart Ball organisers and we look forward to working in partnership with the Rebecca's Rainbow Heart charity going forward."
James Cant, director of BHF Scotland, said: "We recognise the huge challenges that all families face when their child is diagnosed with a heart condition.
"There is still a long way to go to ensure that they receive the support that they need and we're committed to working with NHS Scotland and the Scottish Government to ensure their voices are heard and their needs are met."
North East MSP Tom Mason said: "This is a fantastic donation that will make a huge different to many patients in the north-east.
"There is clearly a gap in provision locally, but the reality is that NHS Grampian is being short-changed by the SNP."