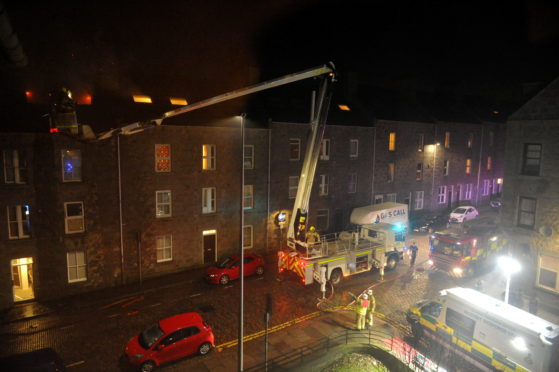 A huge fire destroyed an Aberdeen flat last night and left dozens of shaken residents evacuated from their damaged homes.
Neighbours described seeing flames shooting through the windows of a top floor flat on Richmond Street, in the Rosemount area, at about 5.45pm.
More than 20 firefighters were scrambled to the scene as neighbours banged on the doors of those living nearby and hurried them from their properties.
It is understood that the man who lives in the blaze-hit flat was seen leaving wrapped in a blanket.
Crews from across the city used a height appliance to blast water down through two windows in the roof and douse the flames.
Last night a spokeswoman for the fire service said the blaze was brought under control shortly after 7pm, and that there were no casualties.
One woman, who lives in the flat beneath the one where the fire broke out, heard shouting from outside as people noticed the flames and called for her and others to flee their homes.
She said: "People were buzzing doorbells and knocking doors, and I wondered what all the shouting was about.
"I could smell the smoke as I headed downstairs, it was quite a fright.
"The walls and floors are quite thin so I expect there will be a lot of water damage to my flat."
Another neighbour described the flames as being "really high" as they tore through the roof of the affected flat.
The man added that he saw a man who claimed to be the occupant of the burning property leave and take shelter in a nearby doorway.
Ola Aleksandra was among those who witnessed the unfolding drama.
She said: "We could see the smoke and fire as we headed towards Rosemount from town, and when we arrived we could see bright yellow flames shooting out of the window of the top floor flat.
"I was surprised at how quickly it seemed to develop, it is crazy how large it was."
The block is a mix of council flats and privately owned, and the entire building involved was evacuated.
Police sealed off the roads to Richmond Street from Rosemount Place and Leadside Road, and to Kintore Place from Rosemount Viaduct as firefighters tackled the flames.
A spokesman for the fire service confirmed that the blaze was extinguished at 7.12pm.