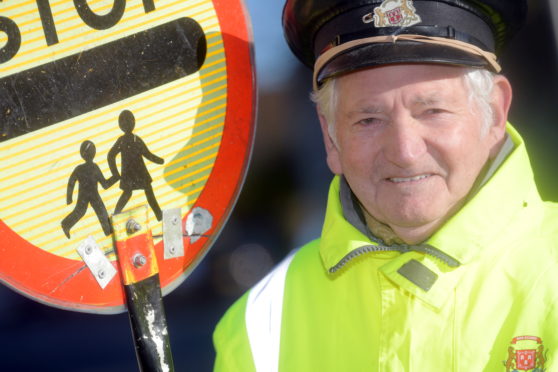 Jim Stewart is a familiar sight in the Mastrick area of Aberdeen, striding with purpose across the road as his young charges wait eagerly on the pavement.
He looks once more to the left and the right on the busy stretch near the city centre, and cars come to a halt at the sight of the luminous sign he plants on the tarmac.
He indicates that it is safe to cross, and as young families make their way to school they greet Jim by name, while others nod politely and hurry on.
Jim has been a school crossing patroller – more affectionately known as a lollipop man – for the past 20 years and has no intention of giving up his post, despite having just celebrated his 85th birthday.
He stops traffic for pupils walking to three primary schools in the area, but helps anyone who needs to cross the road during his 20-minute stint in the morning and again during afternoon rush-hour.
Come rain or shine, Jim can be relied on to leave his house each morning, where he has lived for nearly 60 years, and take up his position at 20 past eight on the dot.
He gets some much-needed time off during school holidays, but often finds himself eager for the start of term.
"I was 65 when I retired as a crane driver because everyone got laid off in the company," he said.
"I sat there and thought to myself, what on earth am I going to do now?
"There is no one who is going to give me a job at my age and it seemed like that was it for me."
A chance meeting with a police officer saw Jim try his hand at the role.
"It used to be the police who did school crossings and then the council took over," said Jim.
"The police woman who was finishing up the role at the time had a chat with me and asked if I'd like to give it a go.
"I said I'd try it for one day and if I didn't think it was right for me, that would be that.
"The days and weeks passed and I've been coming here every morning and afternoon ever since.
"I'm never off ill, I feel fit as a fiddle and I put that down to the fact that I'm not sitting down all day.
"That's the problem when you retire – you go from having somewhere to be to wondering how you are going to keep busy.
"I love having a reason to get out of bed in the morning. I know I've got a job to do.
"In the past 20 years I've taken one week off when my wife passed away, but that's it."
Jim shows up for duty regardless of the weather, and wears a thick yellow jacket in the winter months.
He is provided with lighter attire in time for spring, and last year he faced the Beast from the East followed by one of the hottest summers on record.
"When I look back at the storms and the snow over the years, there really have been some gales," said Jim.
"There used to be a tree that I'd take shelter under but it has been pruned back over the years.
"I just get on with it – and I'm yet to have a morning when I don't want to come to work."
Jim has seen major changes in the community which has impacted on his role, and he believes many people are now too busy to have a quick chat on their way to work.
"It was 1960 when me and my wife set up home here and I actually can't put into words how much Mastrick has changed," said Jim.
"It used to be a brilliant community and everybody knew everyone else.
"When I started as a school crossing patroller I could easily see 50 or 60 kids across the road in the morning.
"But it's much more quiet now. I think lots of people moved to other areas of the city or out into the country.
"People still say hello, but all the rules have changed.
"You can't speak to the children and they can't high five you or give you a hug.
"I used to give sweeties out at Christmas but that's all stopped now as well.
"I've never been knocked over but there have been a few times when I haven't been sure that cars are going to stop.
"If I didn't do this job I'd have no reason to get out of bed – and it keeps me active.
"Say I lost my job tomorrow, there would be nothing for me to do.
"So if anyone would like to employ an 85-year-old, bear me in my mind."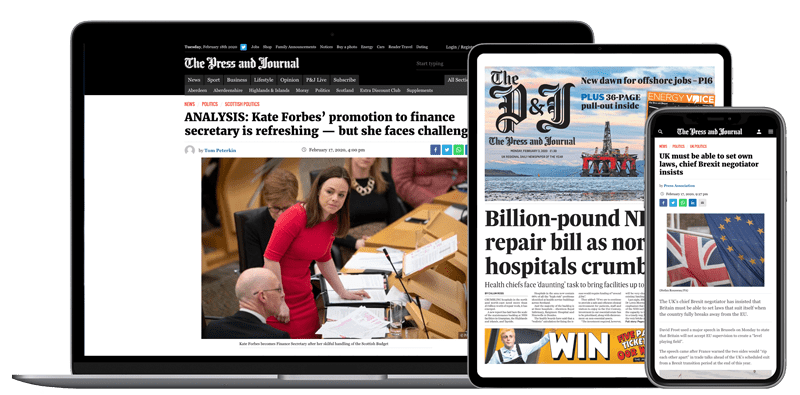 Help support quality local journalism … become a digital subscriber to The Press and Journal
For as little as £5.99 a month you can access all of our content, including Premium articles.
Subscribe