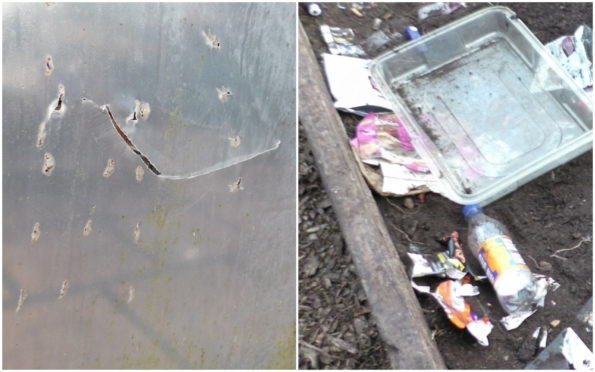 Community gardeners have been left "heartbroken" after their Aberdeen allotments were trashed by vandals.
Members of the Nether Loirston Growers Association in Cove have worked the soil, tended to plants and harvested produce at their site in Altens since 2011.
But last night the group revealed it has been the victim of a prolonged attack by vandals who have racked up thousands of pounds worth of damage.
Between mid-January and February 6, thugs broke into the fenced-off area and smashed up years of hard work.
Litter and "hundreds" of cigarette butts were strewn among planters, a wooden workstation was bashed to pieces and it is thought the vandals used the gardeners' own tools to slash and stab gaping holes in a polytunnel.
Association secretary Michele McPartlin said: "At this time of year you're starting to think about what to plant in the polytunnel, but we can't do that now.
"It's soul-destroying because of all the work we've put into it."
She added: "We found bottles, crisp bags and biscuit packets. There's a lot of clearing up to do.
"This all means we'll have to do extra work – it will take about 15 folk just to hang the new polytunnel."
The gardeners have now installed a range of security measures to deter any further damage.
Local police have also vowed to carry out extra patrols in a bid to catch the culprits.
Mrs McPartlin said: "You just want to go to the allotments to do your gardening.
"You don't want to feel like there's a fortress around it.
"It's a big disappointment for the allotmenteers and the whole community.
"It would be good if everyone kept their eyes peeled for any goings on."
Constable Paul McEwen branded the crime a "mindless act of vandalism."
He said: "The association members have spent a lot of their own time to build up the allotment.
"This, however, has been partly ruined for no apparent reason."
And he added: "My colleagues and I will conduct targeted patrols in this area to prevent this reoccurring.
"I want to stress that this area is not a public space and should not be used by any persons other than association members."