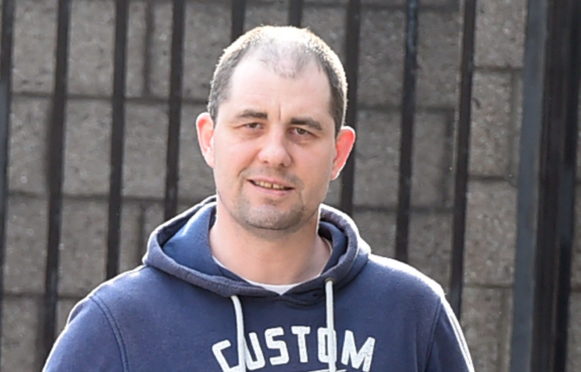 A sexual predator who grabbed a woman on an Aberdeen street and tried to rape her has been jailed for more than four years.
Andrew Conway followed the stranger as she walked along George Street in the early hours of the morning.
The 35-year-old then hit her on the head, grabbed her by the neck and put her in a headlock before dragging her into a block of flats and demanding that she have sex with him.
The incident happened just three months after the 35-year-old had been released on bail for sexually assaulting another woman.
Sheriff Graeme Napier yesterday said the assault would have a "chilling impact" across the city.
He said: "Not only has this incident impacted upon your victim, but it will have an impact upon all women who find they have to walk the streets of Aberdeen at night."
The court heard that, when asked about the possible effect of his actions on the stranger he "dragged off the street", Conway told social workers that he expected she would "take a few weeks to recover".
Conway, who appeared at Aberdeen Sheriff Court on remand from HMP Grampian, admitted sexually assaulting the first woman on Monday, May 28.
He pleaded guilty to locking her in a bathroom, taking away her phone "to prevent her calling for help" and "detaining her against her will".
He then "repeatedly" asked her to engage in sexual activity, kissed her on the neck and pushed her to the ground before trying to force her to perform a sex act on him.
The second woman was attacked at about 12.30am on Saturday, August 11.
Court papers state that the woman was "struggling to breathe" while Conway manhandled her off George Street and into a doorway near St Andrew Street.
He admitted then "pushing her to the ground" and demanding that she remove her underwear and "engage in sexual activity".
The woman managed to get away, and was helped from the scene by passers-by who helped her retrieve her belongings and gave her a lift home.
Police arrested Conway on August 14, after appealing for help from the public.
Defence advocate David Moggach, conceded that both charges were "thoroughly unpleasant."
He said: "There is no getting away from his conduct being thoroughly unacceptable, he knows that with regard to both of the charges.
"On the occasions I have met my client, he has been in a low mood and gives the impression of being depressed.
"One can only hope that he gets the support and assistance that he needs."
Sheriff Napier said both incidents must have been "frightening in the extreme" for the women Conway attacked.
He said: "You were motivated by satisfying your own sexual needs, without having any respect for the victims."
Conway was sentenced to four years and five months in prison, and put on the sex offenders register for life.