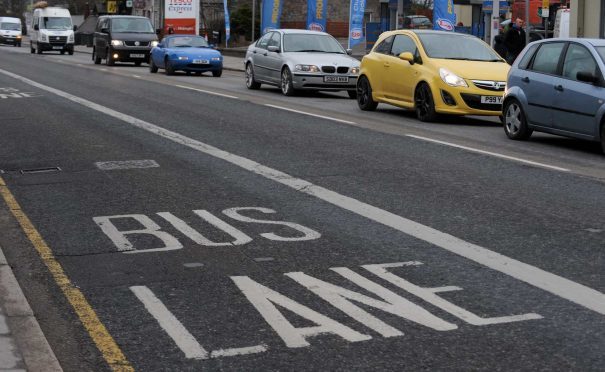 A motorcyclist who petitioned council bosses to allow bikers to use Aberdeen bus lanes has said he won't give up the fight, despite defeat at committee.
The battle for access to bus lanes has been ongoing in the city for the past two decades, with bikers pointing to success stories in cities such as Edinburgh.
Supporters of the plan say that it could improve safety for bikers, who would no longer have to weave in and out of traffic.
And there is also the belief that it could encourage people to switch from cars to more environmentally friendly bikes and scooters.
A report to the council's operations committee, however, recommended not proceeding, with projections showing it could cost up to £20,000 to implement and both police and cyclists raising concerns.
And this week councillors took on board those recommendations as they rejected the proposal.
Stewart McCann was behind the launch of a petition last year which put the idea back on the public agenda in Aberdeen.
---
>> Keep up to date with the latest news with The P&J newsletter
---
Last night he said that rejecting the plan overlooked an opportunity to improve road safety for motorcyclists.
"I'm very disappointed by the decision and I think it was made due to monetary considerations rather than with consideration for the safety of bikers," Mr McCann said.
"Saying that it would be unsafe for motorcycles to use bus lanes, but its fine for taxis and buses, is just nonsense.
"We will maybe look at it again in a few years. We aren't giving up."
The committee was told that when the council consulted on the issue, it found that most cycling groups were against granting the motorbikes permission to use the lanes.
Rachel Martin, of the Aberdeen Cycle Forum, said she personally found some merit with the idea and added that the group did not have an official position.
Nonetheless, she said most cyclists surveyed by the forum had been against the plan put forward by Mr McCann.
She said: "The council did contact us about our views and we decided as a group not to take an official position.
"However we did consult with our members and most were against the idea.
"One of the issues that was raised was that motorcycles are still polluting vehicles and not mass transit like buses and there were also safety issues.
"I personally don't mind the idea, as I would like to see segregated cycle paths."