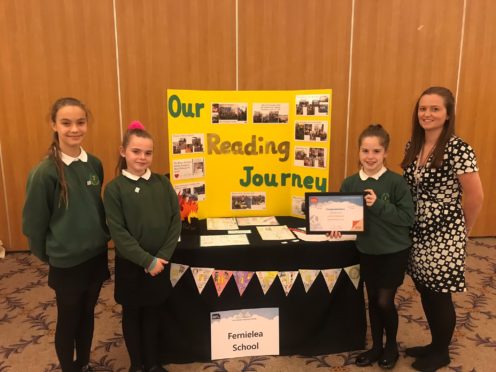 Pupils from an Aberdeen school enjoyed a whirlwind two days as they visited Dundee for a choir contest before hopping straight on a train to Glasgow to take part in a celebration of reading.
The choir from Fernielea School made it to the final of a national singing competition in Dundee, having defeated local rivals to qualify.
The FenieGlee group sang The Champion by Carrie Underwood and Rhythm of the Night by De Barge at the Scottish Glee Championships.
Judges awarded the children second place, with only one point separating them from the winners, who came from Denny Primary School near Falkirk.
Head teacher, Lisa Walker, said: "Participating in the competition has given our pupils the chance to sing and dance in front of large audiences, and to have fun at the same time.
"The smiles never left their faces the whole day.  It was a wonderful opportunity for them all."
Straight after the contest ended, a small group of pupils travelled to Glasgow – where they represented the school and Aberdeen City Council in the First Minister's Reading Challenge.
Mrs Walker , P6 teacher Sarah Leslie and pupils Erin Storey, Ashleigh Leslie and Jessica Sniezek were given a "highly commended" award in recognition of their efforts to promote reading at Fernielea.
Mrs Walker said that the "library leaders" group worked hard to create a "positive reading culture" in the school and launch its new library.
Initiatives included various scavenger hunts, lunchtime clubs and an event where storied were read around a campfire.
At the Glasgow ceremony, the youngsters met children's author Ross MacKenzie.
Mrs Leslie said: "We believe a love of reading lasts a lifetime, inspiring creativity and imagination – and we have worked hard to instil that in every child."