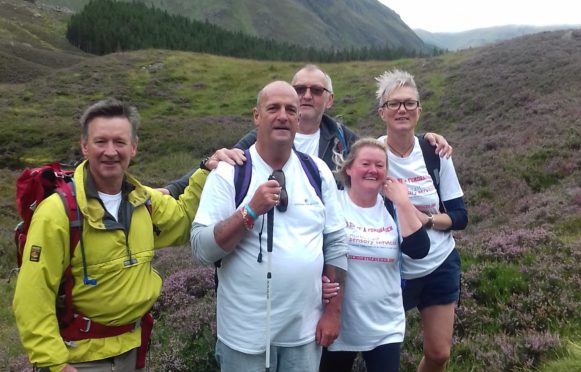 An north-east navy veteran whose sight loss had rendered him housebound has conquered two Munros for charity.
John Mitchell, 57, who has optic nerve damage and was diagnosed with eye condition macular degeneration and cataracts in his early forties, smashed the nine-mile distance across Mayer and Driesh in aid of charities Scottish War Blinded and North East Sensory Services.
Medically discharged from the Royal Navy's Royal Fleet Auxiliary in 2011 due to his diagnosis after more than a decade of service, the former steward's ailing sight eventually stopped him from working in his civilian job as a cleaner in 2017.
Mr Mitchell's battle with limited sight and double vision initially took its toll on his mental health and the keen walker lost the confidence to even step outdoors.
But, following long cane training from NESS and by participating in Scottish War Blinded's Aberdeen group walks, he was spurred to take on his very own walking challenge along with his wife Janet and three good friends.
He said: "I felt great completing the challenge. It was hard, especially once the weather kicked off and I was in bits coming back, but once I got into town, I felt great.
"Walking with my long cane was a challenge because of the rain as well, but I think I coped pretty well along with the support of Janet and my friends."
Mr Mitchell began his long cane training with rehabilitation workers from NESS around six months ago.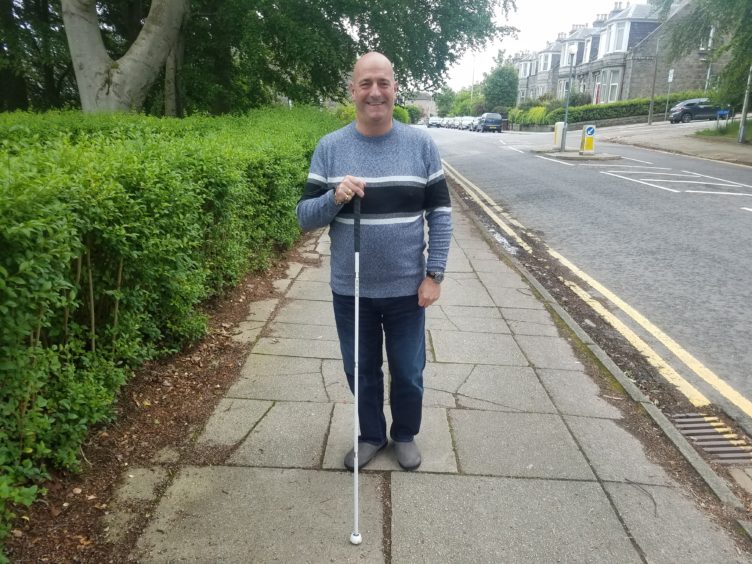 He added: "My eyes were getting worse and I panicked. I kept on thinking 'I want to go out', but the thought of getting from A to B made me lose my nerve.
"I didn't have the confidence and I just gave up for a time. I told myself I needed to do something but I didn't feel safe leaving the house."
However, his confidence blossomed as he became accustomed to using a long cane – nicknamed 'Harry' – without fear.
Now, after raising £1,000 for charity through his Munro challenge, John has made huge leaps in overcoming his fears and regaining a big part of his independence.
John said: "Before I got the cane, one of the fear factors had been embarrassment.
"I didn't want to be seen with a cane because I thought I'd have a stigma attached to me.
"There were 100,000 thoughts going through my head.
Rebecca Barr, Director of Scottish War Blinded, said: "Huge congratulations are due to John for conquering this walking challenge.
"We're honoured and thankful he chose to fundraise for us."
NESS provide services across Moray, Aberdeenshire, Aberdeen and Tayside.