'I'm a typical north-east man' says Aberdeen's Lord Provost after Glasgow expenses revelations
Aberdeen's Lord Provost has said his Glasgow counterpart left him "surprised" following the revelations she claimed £8,000 of public money on clothes and beauty products.
Barney Crockett, who has come in for criticism for his own expenses in recent years, said he buys his own clothes and formal wear – and does not claim a single penny from the taxpayer for the items.
He sources his suits from a variety of second-hand sites, describing himself as "a typical north-east man" when it comes to being careful with money.
Pressure has this week been mounting on Glasgow's provost Eva Bolander following revelations she bought 23 pairs of shoes, five coats and a Kate Moss designer hat as part of an £8,000 spending spree she billed to the taxpayer.
Mr Crockett himself consistently claims the most of all 45 Aberdeen councillors, with his expenses amounting to £26,045 in the last financial year – mostly related to foreign travel and food as he represents the city around the world.
In July he came under further fire as it emerged a new BMW seven series would be leased for use as his civic car.
But yesterday Mr Crockett insisted he tried to remain frugal.
He said: "I buy all my clothes second-hand online and I pay for all the cleaning and tailoring. That includes my Highland wear and black tie for events.
"I was really surprised to hear about Glasgow, because I think all councillors have it drilled into them to watch every penny.
"Especially in Aberdeen, the public hate the idea of anyone living off of their tax money, and we actually often have the lowest expense claims in Scotland.
"In Aberdeen people like to be careful with money and I think I am really a typical north-east man."
Opposition SNP finance spokesman Alex Nicoll said: "Our Lord Provost, like others across the country, will also get an allowance from the common good fund.
"And let's not forget we have a £77,000 BMW sitting in the garage for his use.
"I suppose as a woman she would also be expected to wear different outfits to events where men can usually wear the same thing."
Yesterday, Glasgow's provost wrote to councillors to say "sorry" for her expenses bill.
It included £389 for Harris Tweed fabric, a pair of £358 spectacles and a £200 hat from William Chambers.
Ms Bolander said each claim had been "made in good faith and scrupulously accounted for, within the rules".
But she added: "Although the spending incurred was within the rules, on reflection there are items which I should not have chosen to reclaim."
Glasgow council's leader, Susan Aitken, had tweeted her support for the embattled provost, writing: "It's part of the LP's salary in Glasgow. It's always been understood that there's an additional cost of being civic leader."
An Aberdeen City Council spokeswoman said: "We can confirm that no claims have been made by the current Lord Provost against this allowance."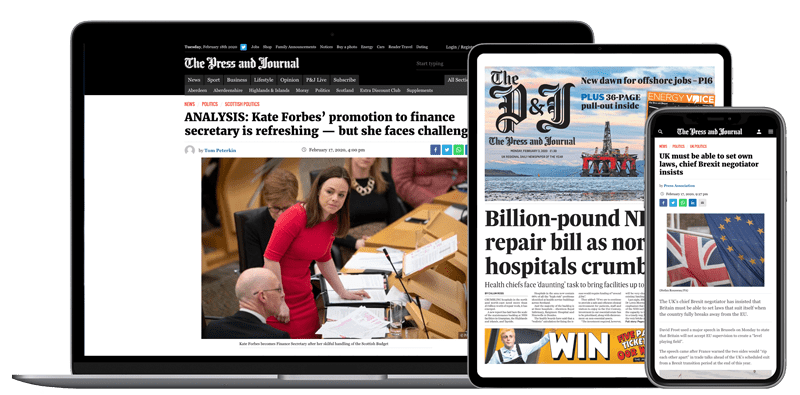 Help support quality local journalism … become a digital subscriber to The Press and Journal
For as little as £5.99 a month you can access all of our content, including Premium articles.
Subscribe