A miniature poodle saved from a life of misery as bait for a dog-fighting ring has now been trained to help people prone to seizures.
Charlie, who is 12, was rescued after being abused and beaten in illegal dog fighting rings in Arizona.
The small animal suffered several life-threatening injuries while being used as bait to encourage and teach other dogs to fight.
Now, the furry companion lives with Susan Martinez and Keith Webster in Portlethen – and has become something of a local celebrity.
Charlie has even taken part in local church plays, and offers assistance as a seizure alert dog.
Mrs Martinez, 56, explained how she and Charlie found each other in America eight years ago.
She said: "When I lived in Arizona, I was diagnosed with a pretty bad lung disease in and I stopped working.
"I was pretty depressed."
It was then that a friend, who is a vet, told Mrs Martinez about a very poorly dog who would "wag his tail" every time she thought about putting it down.
Mrs Martinez added: "He was expected to die and she told me to take him, to give him a good home for when it would eventually happen."
Mr Webster said: "They used to rip him to bits.
"The vet didn't hold out much hope for him as he was in a bad way."
However, Charlie got "better and better by the day" and grew strong enough to recover from his wounds.
Mrs Martinez said the pet eventually stopped trying to run away and began to trust people again.
She added: "I decided that he would have to have some sort of animal service training, to keep him by me at all times.
"So, Charlie was trained to be a seizure alert dog since I have a seizure disorder.
"He will go up to somebody when they're about to have a seizure or a stroke, and circle around them to let them know they should sit down.
"Charlie also lays between the person's head and the pavement or hard surface so they don't hurt themselves."
Mrs Martinez met north-east man Mr Webster in America and took Charlie with her when she moved to Portlethen.
Mr Webster said the friendly pet "brings the community happiness" and enjoys meeting smaller dogs and children.
"He's a community dog. He's even taken part in some plays in the church," he added.
"They led him by his leash to the small stage when they were retelling the story of Noah's Ark. He's had some life."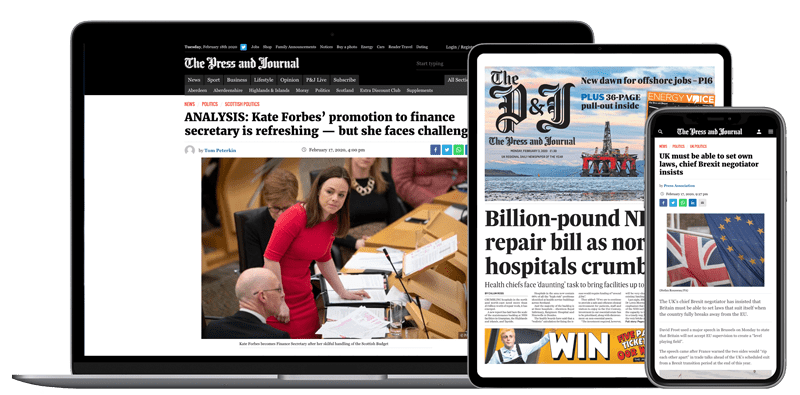 Help support quality local journalism … become a digital subscriber to The Press and Journal
For as little as £5.99 a month you can access all of our content, including Premium articles.
Subscribe