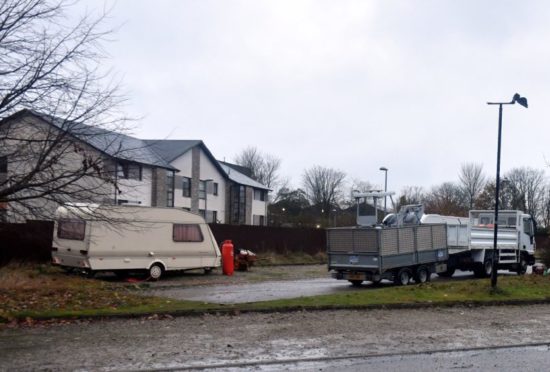 A group of travellers have been served an eviction notice after pitching up in a cafe's car park.
Four caravans set up in the Rohaan cafe bar car park on Burnside Drive in Dyce at about 5pm on Sunday.
But local residents and business owners promptly complained to Aberdeen City Council about the illegal encampment, and claimed the group's generators and dogs were causing a noise disturbance.
They contacted the police, who have visited the site.
Michelle Nichols, who is the license holder Rohaan, said: "This is a situation that is being taken very seriously, the generators that have been set up are keeping residents awake.
"There is a real worry that this will damage business if it is allowed to go on."
The local authority was unable to move them on as the car park is private owned.
However, car park owners Energy Dawn took legal action and Aberdeen Sheriff Court has now issued an eviction notice for the group.
Shannon Lee, one of the travellers, said they had only pitched up at the site after being unable to get into the busy Clintery site.
The 24-year-old said: "We wouldn't be here if we had somewhere else to go.
"Whilst it isn't right for us to be parked up here, I also don't think that its right that residents are coming down and knocking on our doors.
"Taking pictures of us all, I don't think that is right."
She said they had been turned away from the halting site at Clinterty, nine miles outside of Aberdeen, as it was too busy.
A police spokesman said: "We were made aware of a traveller camp on Burnside Drive, Dyce around 5pm on Sunday, November 3.
"As is routine, officers have attended the site and appropriate partners have been made aware. Advice was also given to the owner of the land."