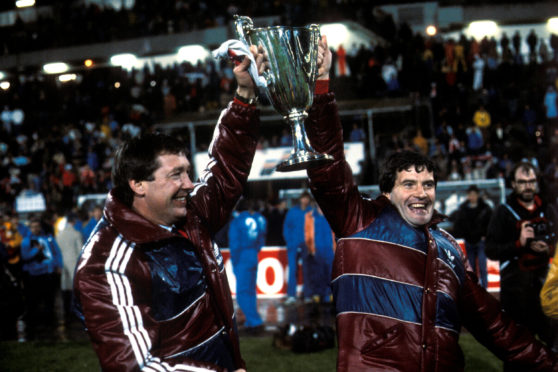 For the past 100-plus years, supporting the Dons has been a tradition in the granite city.
Since 1903, generations of families have made the journey to Pittodrie to watch Aberdeen through thick and thin, triumph and adversity.
All too often, it is the players and managers who are remembered in history, but it is the supporters who grow up alongside the club and are the largest part of not just Aberdeen, but any football club's extended family.
In a new book by journalist and football historian Steve Finan, decades of picture archives, including those from the Press and Journal, have been stitched together to tell the highs and lows that only supporters of a football team could understand.
'The Red Army' is a showcase of how football has simultaneously evolved, but fundamentally stayed the same throughout the Dons' life in top flight football.
One harrowing incident included in Mr Finan's book, is an image of a 16 -year-old girl who was the victim of a knife being thrown into the crowd back in 1972.
The victim, who was carried away by police officers, was thankfully able to leave hospital the same evening with minor injuries.
But the picture, which features the girl's head impaled with a knife, will never age in its ability to shock anybody who sees it.
Speaking to the Press and Journal, Mr Finan said: "Every club should have a book like this one because all fans deserve to be celebrated.
"They are the ones, who year-in, year-out, experience the highs and lows of their team's performances and I don't think any fans in Scotland do that better than Aberdeen's.
"Players and managers come and go, but the supporters are always there, and they all have an individual story to tell.
"I hope this book can capture some of that."
The work covers the club winning both major Scottish and European honours under the leadership of Sir Alex Ferguson.
It highlights the 19-year trophy drought which was finally ended under current Dons manager, Derek McInnes.
Mr Finan added: "Football is something that very much affects peoples lives after they leave the ground and it has been my aim to capture this social phenomenon.
"The media showcases a view of football that only 1% of people get to experience, whose experience of the game is vastly different to that of the 99% of people in the football stadium for any game, the fans.
"The photos represent all aspects of being a supporter. The good, the bad, the victories, the losses, the cold, the queues, the boredom and even the violence that once pervaded the game."
Mr Finan will be hosting an official release of the book on December 3, at the Aberdeen Waterstones in the Bon Accord Centre from  6.30pm.