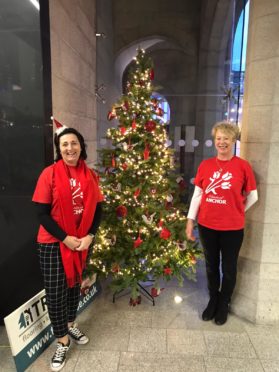 A north-east charity is offering people the chance to remember their loved ones by placing a personal decoration on a Christmas tree in the heart of Aberdeen.
As the chosen charity of Aberdeen's Christmas village, Friends of Anchor has launched its "tribute tree" at Marischal College for all visitors to the festive site to see.
The special tree is adorned with hand-made decorations which carry the names of people who have died.
Chairman of the charity, Jim Milne, said: "For many of us, the festive season can heighten the memory and loss of loved ones.
"Our hope is that the tribute tree will serve as a beacon of love and remembrance for people in the north-east during this time."
The tree was gifted to the Friends of Anchor by local company Treehouse.
On its branches are bespoke red anchor decorations, made by Ceramika Art Studio, which is also based locally.
Each anchor has been etched with the name of someone who is being remembered by their loved ones this Christmas.
Charity volunteer Donna Miller said: "The tribute tree is a lovely reminder of our loved ones left behind – a beautiful and touching thing to do at this special time of year."
To order a tribute anchor, people can email info@friendsofanchor.org by tomorrow morning.