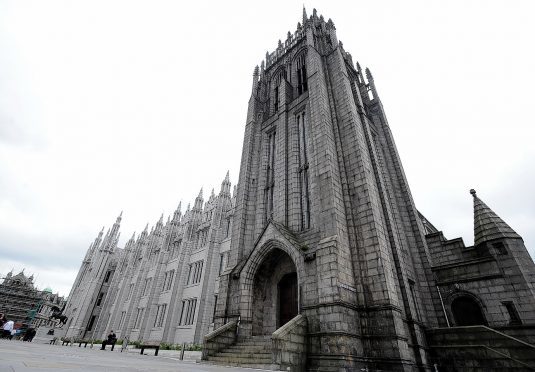 An ambitious project to transform an A-listed Aberdeen city centre church into a new upmarket bar has begun.
CAF Properties has erected scaffolding around the Greyfriars church which is adjoined to Marischal College on Broad Street.
In August, listed building consent was granted by Aberdeen City Council – paving the way for hospitality giant G1 to convert it into a bar and restaurant.
The former church was designed by the architect Alexander Marshall Mackenzie and built in 1903.
However in recent years it has been placed on the buildings at risk register, while neighbouring Marischal College underwent a huge renovation to become council headquarters.
A decision notice by Aberdeen City Council said: "Most of the works proposed as part of the comprehensive conversion and refurbishment of the building would be sympathetic to, and preserving of, its special character.
"Some of the works, including the installation of new internal floor levels and the erection of a 
rear escape stair extension, would have a detrimental impact on the 
special character of the building.
"However, it is acknowledged that these alterations and interventions are the minimum necessary to allow for the viable reuse of the building, which has lain vacant and on the Buildings at Risk Register for several years."
The work has long been planned for with the firm revealing last June that the darkened granite would also be blasted clean to the same effect as Marischal College as part of the project.
CAF Properties did not respond to request for comment.