Parts of the north and north-east were brought to a standstill yesterday after being battered by snow and rain.
ScotRail services across the north and north-east were cancelled and delayed after heavy flooding forced part of the line to close.
Torrential rain at Mill O'Keir viaduct between Stirling and Perth caused significant disruption to Inverness and Aberdeen trains which were travelling to and from the central belt, with the line closed due to the depth of the water.
Inspections were carried out by a specialist team, but, despite their efforts, the disruption lasted into the evening, with replacement buses transporting passengers between Stirling and Perth as of 4pm.
A ScotRail statement said: "A specialist team has been deployed to carry out initial inspections on some of the viaduct, but due to the high level and fast flowing of the water, some areas are unable to be inspected."
It was only after the company received feedback from the engineers that the company was able to consider the safest course of action to allow the line to be re-opened.
The problems followed a yellow weather warning, which was issued by the Met Office for ice and snow with the warning for ice extending until 10am today.
But as many difficulties were caused by the rain which brought problems for commuters, with already saturated roads being completely deluged.
Councillor Duncan MacPherson, who represents the Inverness south ward, took pictures of the scene at Cedarwood Avenue when a roadside verge more closely resembled a burn flowing through the Highland capital.
He said: "One of the footpaths at Cedarwood Avenue was flooded and it quickly turned into a stream.
"Following heavy rainfall, the water was cascading downhill at Milton of Leys in Inverness South, presenting a health and safety hazard, with residents fearing the possibility of landslides and more permanent damage."
Parts of Aberdeenshire experienced heavy snowfall with Alford Community Campus shutting early and classes being cancelled.
Staff at Crathie School informed parents that classes would not be held due to snow falling throughout yesterday morning and Rhynie School closed at 1.20pm with parents told to collect their children as soon as possible.
In line with Aberdeenshire Council's winter operations, all 32 gritters  were out yesterday afternoon and will take to the north-east roads again this morning.
Aberdeen gritters were also out in full force, and staff have been treating primary routes which cover about 50% of the city since 4.45am this morning.
Secondary routes, which include roads near sheltered housing and social work properties, cemeteries and crematoria, shopping centres, and access to facilities in parks and gardens continued to be gritted in anticipation of heavy snow, which was forecast to continue into today, though the city has bot been badly affected.
A spokeswoman for Aberdeen City Council said: "There may be some ice on higher ground, and on untreated roads and sheltered places, although temperatures are due to get above 0C again today."
The snow gates at Cairn O'Mount B974 Banchory to Fettercairn Road – which is traditionally one of the first areas in the north east to be afflicted by bad weather conditions – were shut at around 11am yesterday.
Police encouraged motorists to travel with caution and reminded them that the yellow weather warning have been extended into this morning.
A statement said: "We would always advise motorists travelling in an area affected by any weather warning to travel with caution.
"Be prepared to slow down and drive at speeds that are appropriate for the conditions."
Frosty and wet weather to continue in coming days
The north and north-east is on course to experience the rainiest February in 89 years.
A yellow weather warning for snow and ice has been put in place for the north and north-east into this morning with strong winds and freezing temperatures expected for tomorrow.
Met Office meteorologist Steven Keates said: "It's been quite snowy these last few days, which is something that we haven't seen much of this winter.
"The north and north-east of Scotland has experienced a lot of that with the most in Aboyne, where there has been 7cm of lying snow, and in Aviemore, where there has been 4cm.
"There have been some strong winds blowing as well and the gritting teams will be hard at work.
"We'll see about 5cm to 10cm of snow above the mountains and there will be some travel disruptions today.
"In the islands, in the coming days, we'll see a mixture of rain, sleet and snow.
"And in the north-west, we'll see showers coming in this morning."
Tonight, temperatures are expected to plummet to -8C.
Scattered showers are the  expected tomorrow across the region, with the north-east experiencing marginally more sun and the north-west experiencing more rainfall.
The Highlands, meanwhile, are expected to face significant snowfall, with further travel disruption expected.
In Aberdeen, occasional wintry showers are predicted, with a mix of dry, sunny weather and overnight frost and risk of ice.
Mr Keates said temperatures will reach 4C to 6C, but it will feel colder due to wind-chill.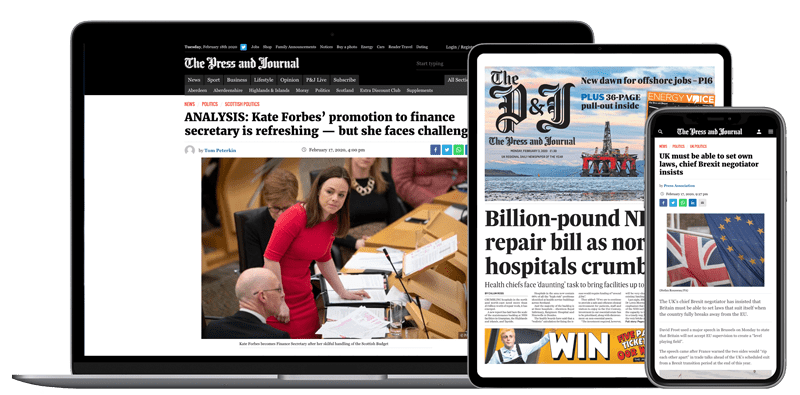 Help support quality local journalism … become a digital subscriber to The Press and Journal
For as little as £5.99 a month you can access all of our content, including Premium articles.
Subscribe