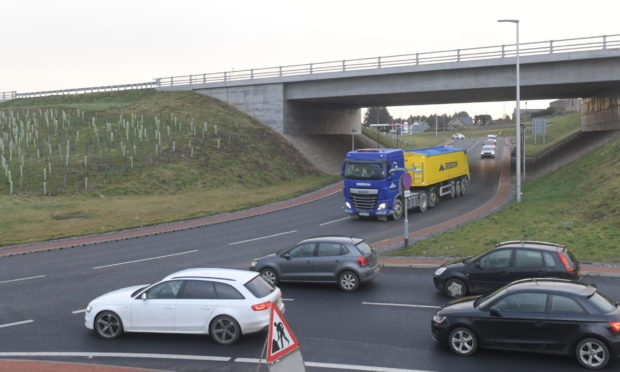 North-east transport bosses are to install cameras along the length of the A90 Aberdeen bypass – but not to address speeding concerns.
Around £100,000 could be spent on the automatic number plate recognition (ANPR) systems, planned for slip roads leading on and off the year-old road.
Aberdeen City Council is looking to install the technology to better understand who is using the road.
There is a concerted campaign to have speed cameras installed on the AWPR, though Transport Scotland has previously declined to install such a system on the 36-mile dual carriageway.
But the roads quango did produce data on the impact of the bypass last May – hailing a near 50% reduction in traffic in parts of the city, as motorists used the new stretch between Ellon and Stonehaven.
The figures also showed 20-minutes was shaved off journey times between the north and south of Aberdeen.
The harbour, Bridge of Dee and Anderson Drive were among the areas freed of some congestion by the road's opening.
Now the city council – which put £75 million towards the cost of the bypass – wants more.
"I suspect Transport Scotland has its own modelling but this is for us to get a better handle on how the road is used," council transport spokeswoman Sandra Macdonald said.
"The cameras would just be to get better data – rather than for speeding.
"This would allow us to have a better idea of peak times and journey times.
She added: "It has been a pretty good start for the AWPR but we want to know how it can better be used and take unnecessary traffic away from the city centre.
"It is just understanding all of that and the cameras would allow more than simple counting with ticker tapes over the road."
Data from the 22 cameras proposed could be used to inform future transport strategy in the north-east.
The city council wants to understand which haulage companies are using the bypass – and, therefore, which firms are not.
Mrs Macdonald, also the chairwoman of the Nestrans transport partnership, said: "It would be sensible having built and financed the road to get as much data as possible to shape regional transport strategy.
"We could see how not just residents and businesses are using the bypass but, over the summer months, how visitors to the north-east are using it too."
The cost of the cameras and their installation would be paid with EU funding.
Last week, in a written response to a question from North-East Conservative MSP Tom Mason, Transport Minister Michael Matheson said it is a possibility that safety cameras – which includes the potential for average speed cameras – could be brought to the AWPR if necessary.
Mr Matheson said: "An annual safety camera site prioritisation process is undertaken to determine new safety camera sites across our road network.
"If the 2020 process identifies the AWPR as meeting minimum site selection requirements, a safety camera deployment will be considered."