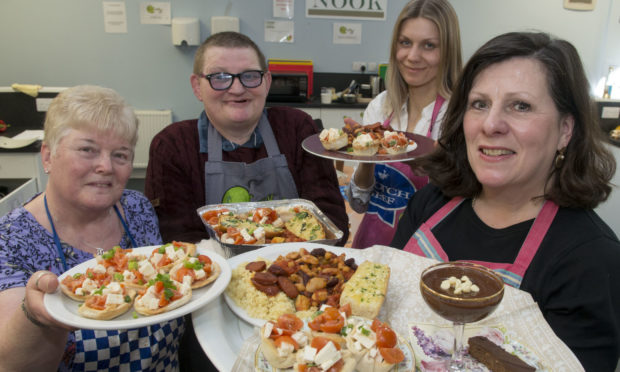 Some of Aberdeen's most needy, and those who help them, were given cooking lessons by the city's Depute Provost yesterday.
Jennifer Stewart donned an apron and took to CFINE's kitchen in Poynernook Road to share budget culinary tips with service users, volunteers and the charity's beneficiaries.
The foodbank provides emergency support for people going through hardship in the north-east, as well as offering learning opportunities at its base near Aberdeen harbour.
Mrs Stewart, who runs a charity cafe during the summer months, said she leapt at the chance to lead the class during a visit.
The Hazlehead/Queen's Cross/Countesswells councillor said: "I wanted to make it accessible for people with limited cooking resources.
"It is good to share my experience. I'm not a fantastic cook but I think people need to enjoy cooking and I'm as keen to learn from others.
"This sort of thing is where my heart really is and it is important to remind people going through hard times know they are part of our community."
Together, participants created bread basket starters, a chorizo and bean casserole with couscous, chocolate mousse and tray bakes.
CFINE's depute chief executive Fiona Rae said: "It was great to welcome a civic leader of Aberdeen for an activity that benefited people who dedicate their time to providing help and support for those experiencing hardship."