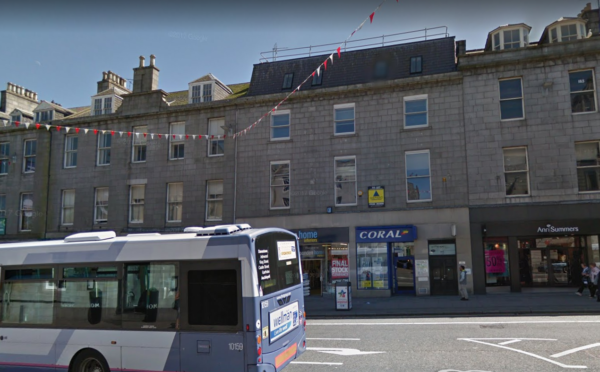 Repopulating Aberdeen city centre is vital to staving off the economic death of the high street, developers aiming to convert an old office into flats have claimed.
Plans have been lodged to turn a vacant NHS office above a Union Street bookmakers into 17 flats.
Developer Bennett Group has said its proposals will include car parking spaces rather than room for other amenities, which could traditionally work against such a project.
But, with the coronavirus pandemic taking its toll on businesses across the world, the developer has urged council planners to "dismiss and re-think" the usual criteria by which they would judge such an application.
"When the current world health crisis is over, the need to adopt a flexible and imaginative approach to regeneration will be paramount," planning documents state.
"If ever there was a time for the planning profession to take the helm and drive the agenda, it is now.
"And if that means setting much of the development plan aside in favour of just getting things done, it is now."
The application states that a balance must be struck, adding: "For those electing to live in the city centre, the convenience of having a range of services and activities adjacent must be set against the fact that city centres are noisy and that the level of amenity cannot be the same as that experienced in out of centre locations."
The proposed development at 181 Union Street will include a mixture of studios and apartments with one, two or three-bedroom flats – and each will have its own designated parking space.
The property is B-listed and part of the Union Street conversation area, but the developer has said its front facade is the only original feature still standing.
Previously used as an NHS office, it is thought the whole interior and rear of the property were previously stripped out and rebuilt.
The developers have argued for remodelling it once more, suggesting it resembles "any other modern office accommodation" and not something of historical significance.
They added: "This development will contribute greatly to the creation of the living city and, in the process, enliven and energise the town centre.
"The increased activity generated by city centre living will also contribute greatly to the sense of well-being and security which the presence of people can bring to the local environment."