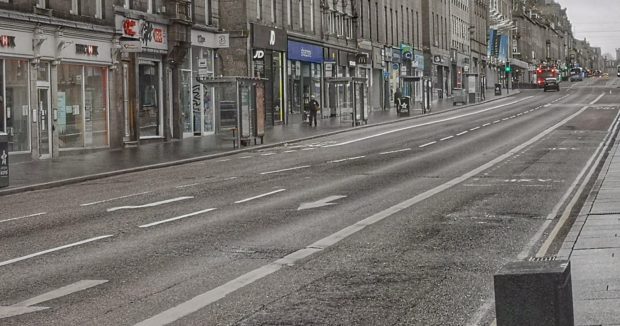 Business leaders have said plans to ban cars from Aberdeen's main thoroughfare, to allow pedestrians to remain safely distanced, would be a major step on the road to recovery for struggling traders.
During the coronavirus pandemic, high streets across the country have faced an almost complete halt to activity.
Aberdeen City Council has now applied for a share of the Scottish Government's £10 million Space For People fund, which covers the cost of changes to towns and cities so that people can maintain a safe distance from one another when they are able to get out and about again.
The authority has confirmed that cars would be banned from Union Street to make way for temporary pedestrian and cycle ways under its plans.
Chief executive officer of business improvement group Aberdeen Inspired, Adrian Watson, last night said the move could help create a "cafe culture" in the city.
He said: "This is a proactive move by Aberdeen City Council, we understand that if we are to open the city centre in a safe and sensible fashion then it will have to be done incrementally.
"Covid-19 has given us all a real challenge and it has given us a chance to look at opportunities in the future, industries such as hospitality and retail have taken a real hit.
"If we can close roads and extend pavements, there is an opportunity for cafe culture to be expanded, tables and chairs can be put in the streets like in other cities all around the world.
"Working through social distancing, we can consider different ways of operating, already we have had discussions with businesses on how we could extend the working day or operate through an appointment system to accommodate people into the city."
Some form of pedestrianisation along Union Street has been a long-held plan of council chiefs in a bid to increase footfall in the city centre and inject new life into the beleaguered Granite Mile.
Mr Watson added: "The AWPR has already shown us that vehicles that otherwise add no value to the city centre now don't have to come through our city.
"Not everyone is wanting to come into the city all at once, first and foremost this is being done for safety reasons. But it will be interesting to see how people react to it.
"I think we need to be pragmatic and open minded, and explore our options moving forward because standing still is not an option."
Stephen Gow, vice-chairman of the Aberdeen City and Shire Hotels Association, said the move was an opportunity for lasting change.
He said: "Nothing will be the same again in many ways, so let's go for wholesale change.
"But, if we're going to do this then let's commit to doing it permanently, not for six weeks or six months to aid recovery.
"We should embrace the changing needs of the high street and the people of, and visitors to, Aberdeen."
If the city council's application for funding is successful, traffic would be re-routed around the centre to free up carriageway space.
Sales and marketing director the McGinty group, which operates a number of bars and restaurants along Union Street, Jillian Miller, said: "Right now is a very negative time for the industry so anything the council is doing to help us get people into the businesses is a good thing."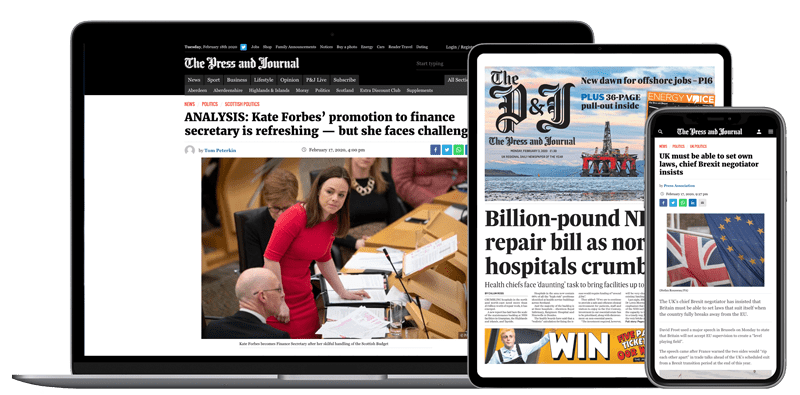 Help support quality local journalism … become a digital subscriber to The Press and Journal
For as little as £5.99 a month you can access all of our content, including Premium articles.
Subscribe