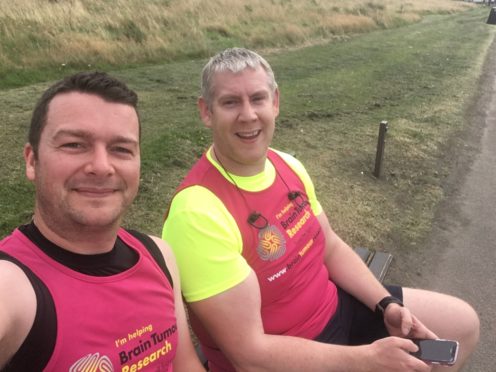 Two lawyers who met in secondary school in Aberdeen will run 10 marathons in 30 days to help find a cure for brain tumours.
Steven Allan and David Low, both 35, have been inspired to undertake the challenge having lost a close mutual friend to the disease.
Despite now living 263 miles apart, with Mr Allan in Udny near Ellon and Mr Low in Durham, the pair have been keeping each other on their toes thanks to social media.
Mr Allan, who is on furlough from James and George Collie solicitors in Aberdeen, said: "We had seen that Brain Tumour Research were looking for people to take on the 2.6 Challenge and realised that we live 260 miles apart, or 263 miles to be exact.
"That distance seemed too much of a coincidence and, with surprisingly little persuasion, Dave agreed to take on a 10 marathon relay with me.
"I must admit, I didn't expect him to say 'let's start tomorrow' though."
Mr Allan has been using the old railway line which forms the Formartine and Buchan Way to clock in his distances.
He added: "Dave and I are pretty competitive so we have been winding each other up and pushing each other on.
"Research into brain tumours is an area that doesn't get enough attention and we want to do whatever we can to help out."
Donations can be made at: www.justgiving.com/fundraising/AberdeentoDurhamRelay