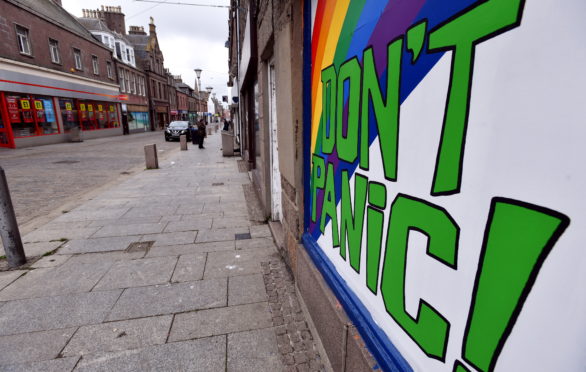 Businesses across the north-east have pleaded with the council to ensure they do not "kill our high streets" when adapting town centres in response to coronavirus.
Like their city neighbours, shop owners in Aberdeenshire are wary about the reshuffling of road layouts to comply with social distancing regulations.
Aberdeenshire Council has been awarded £310,000 from the Scottish Government's Spaces for People Fund.
The funding will cover the entire cost of temporary projects, helping to provide safe walking and cycling areas during the pandemic.
Priority is being given to town centres in Banchory, Ellon, Fraserburgh, Inverurie, Peterhead and Stonehaven – where various road closures, pavement widening schemes and more are proposed.
Muhammad Adrees has run Phonetech in Peterhead for five years and started a petition this weekend, which already has 1,700 signatures, urging the council not to close the town's roads.
Cars could be banned from Market Street, Thistle Street, Queen Street, Chapel Street, Back Street, Prince Street and Broad Street.
He said: "We are already on our knees due to coronavirus and the proposed road closures will kill our already suffering town centre.
"The council is rushing these measures through, and it could be a disaster for independent businesses."
Mr Adrees has suggested that, rather than spend money on widening pavements and altering the roads, the council could instead hire extra security staff to maintain regulations, thereby creating more jobs.
He said: "We all know if the town centre is not easily accessible there will be less footfall and that will result more empty shops.
"If we don't object, our town centre turn into a ghost town."
Business owners have until today to give feedback on the Spaces for People proposals.
Meanwhile Derek Ritchie, of Inverurie Bid, said there had been "mixed response" in the town.
Concerns about closing the Market Street car park, fears over congestion from a new one-way system on West High Street and the potential loss of up to 70 car parking spaces were all highlighted in a virtual community meeting.
Mr Ritchie said: "Retailers are concerned that shoppers visiting the town by car will be confused and annoyed by the measures and could end up shopping in the edge of town retail park or the large supermarkets outwith the town centre.
"To be fair a few have said that the measures are being enforced for the safety of shoppers, so we maybe should see how things pan out."
He added: "My main wish is that social distancing can be reduced to one metre within the next couple of weeks and this would mean that there would be no need for these measures at all, this would also make sure that more of the small cafes, pubs and restaurants have a better chance of surviving in general and being able to re-open."
The Spaces for People proposals are still at this point being developed and will be shared more widely once they are at a more advanced state.
Council teams will continue to monitor the agreed measures put in place and will adjust them accordingly as the lockdown restrictions are relaxed further.
Last week Aberdeenshire Council's head of transportation, Ewan Wallace, said: "These physical distancing measures are being introduced to enable visitors to our town centres to move around freely and safely, which will in turn assist in the economic recovery of the area."
An Aberdeenshire Council spokesman said: "First and foremost, these temporary measures are being designed to help protect public health and support physical distancing, particularly where there are space constraints in our town centres.
"They are being applied to ensure that there is sufficient space to allow people to queue outside shops and at bus stops while maintaining safe passage by pedestrians with appropriate physical distancing.
"Feedback from our communities and businesses will, of course, be taken into consideration in the development of these proposals which will be kept under constant review as the easing out of lockdown progresses.
"The temporary infrastructure is designed to be flexible to allow changes to be made to the proposals as guidance is updated or due to more local changes in our town centres."
A spokesperson for Sustrans – which administers the £30 million fund on behalf of the Scottish Government – added: "It is important that people can get fresh air and exercise, and support local shops while being able to safely physically distance.
"It's particularly important that older people, disabled people and people with young families can get about the town centre safely and comfortably.  It's also vital for town centres to get communities supporting local shops and businesses.
"All Spaces for People measures are temporary measures and are subject to monitoring and evaluation throughout the period."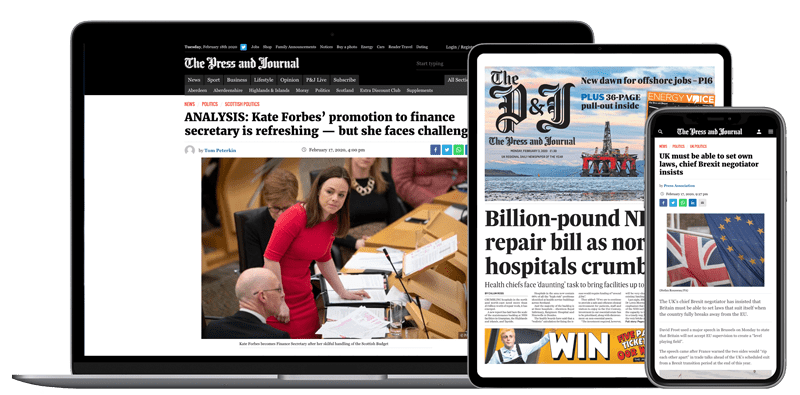 Help support quality local journalism … become a digital subscriber to The Press and Journal
For as little as £5.99 a month you can access all of our content, including Premium articles.
Subscribe