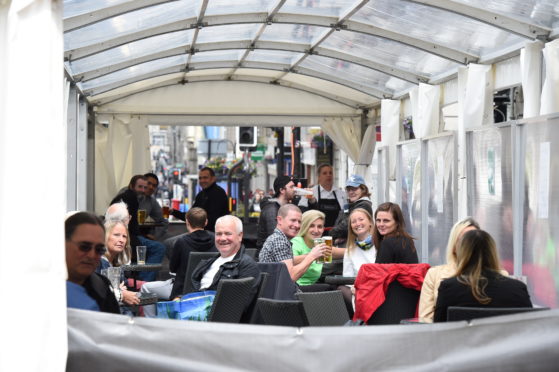 Bars and cafes across the north and north-east enjoyed a busy weekend as revellers enjoyed catching up with friends for the first time in months.
Outdoor hospitality reopened last week after 15 weeks, and scores of people flocked to socialise in cafes and beer gardens yesterday and Saturday.
All venues have social distancing arrangements in place, including one-way systems, hand sanitising facilities and two-hour limits on tables.
Craig Macleod, manager of The Innes in Inverness, said they had a "superb" weekend and were so busy they had to turn customers away.
"We've had a lot of the younger generation in and I'll be honest, every one of them has been perfect," he said. "We've had no problems at all.
"We have a two-hour slot and everyone has been very good. Everyone seems to have accepted this as the new normal at the moment."
The Cullen Bay Hotel welcomed customers to their beer garden this weekend as well as a new drive and dine service.
Visitors have been travelling as far as Fraserburgh and Peterhead to enjoy takeaway meals with a view and beverages in the beer garden.
General manager Lesley Taylor was overwhelmed by the support.
"It was really busy and we had people from all ages in all weekend," she said.
"It was quite touching when a group of around 12 younger guys came and chose to support us because during lockdown the business had been providing free meals to around 50 vulnerable people.
"The guys came up and said 'that is why we've came here and chosen to support you'.
"It had been amazing – it is so nice to get a socially distanced chat with customers – and support had been fantastic."
In Aberdeen, Soul on Union Street was also bustling – with a steady crowd lining up to get their temperatures taken before being granted access.
Paul Clarkson, operations director of PB Devco, said: "It's been absolutely phenomenal.
"The level of business that we've seen has far exceeded our expectations.
We've got such great feedback too."
The Cult of Coffee, located on Esslemont Avenue, welcomed customers with live music after being given given access by Total E&P to use the former play area opposite the cafe.
The very talented Ben Collett kicks off the coffee garden. He's here until 12.

Posted by The Cult of Coffee on Saturday, 11 July 2020
And John Wigglesworth, owner of Books and Beans on Belmont Street, said they had served about 200 people by Saturday afternoon alone.
He praised the council for supporting businesses by setting up outdoor seating and said: "It's been a great week and I think that was helped by the support of the council.
"I'd encourage anyone to make use of the outdoor spaces – they really do provide a secure and safe area."