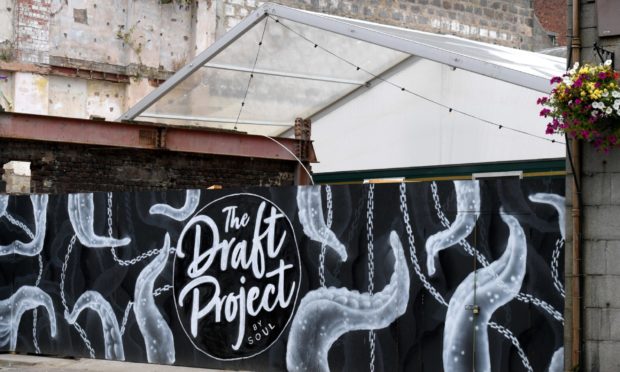 Environmental health officers in Aberdeen only visited a beer tent which had rebranded itself an outdoor venue to fit in with new coronavirus trading rules after a full weekend's trade, it has emerged.
Last night, licensing board member Councillor Martin Greig branded the delay in an EHO inspection at Draft Project "disappointing", saying it should have been prioritised.
The council has confirmed staff assessed the physical measures at the Langstane Place premises on Monday and "were satisfied" it met the requirements.
The venue has been at the centre of public outcry after it emerged it had initially been trading as an outdoor venue in August, while legally speaking deemed indoors.
Giant marquee does not classify as an outdoor venue, Aberdeen bar bosses told
The 280-person marquee was erected in the footprint of the former Bruce Millers store, behind the music shop's Union Street facade.
It was only after the city's three-week local lockdown was lifted it emerged owners PB Devco had mistaken the venue for outdoors, not indoors.
The blunder meant larger groups were allowed entry to the tent, which was raised too close to the surrounding buildings to be classed as outside.
On Friday, the law changed meaning indoor licensed premises could not serve alcohol and had to close by 6pm.
Outdoor premises can, however, remain open until 10pm.
This time, PB Devco bosses removed the gable ends of the Draft Project marquee to meet the minimum 50% open wall requirement.
The same step was taken at the company's Soul Bar tent in Bon Accord Street.
Owner Paul Clarkson declined the opportunity to comment.
While the work was completed in line with the new rules, Liberal Democrat Mr Greig believes that, given its history, the Draft Project should have been visited before customers were allowed inside.
"It's disappointing that it took so long for the premises to be checked," he said.
"This is a large-scale business therefore it would seem appropriate it is visited quickly rather than delaying the inspection until after it traded over the weekend.
"The purpose of the inspections is to protect the public including customers and staff so they are necessary welcome when the safety is so many is at stake.
"I appreciate the council has limited resources to monitor every business, however people should have confidence going into places that their health and wellbeing is assured."
But a spokeswoman for the local authority said was "no requirement" for the business to have been assessed ahead of opening
She added: "It is the responsibility of businesses to comply with the requirements.
"At the visit to the Draft Project on Monday, officers from Environmental Health and Trading Standards assessed the physical measures undertaken to alter the premises and were satisfied the premises meets the requirements of being 50% open sided."