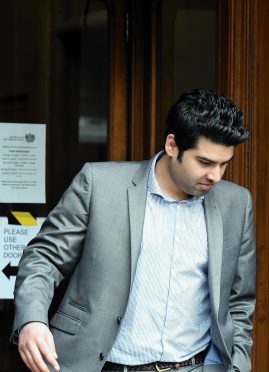 A former banker has been cleared of swindling thousands of pounds from pensioners – but fined for selling personal details on covert websites.
Top banking consultant Aditya Rajiv had been accused of stealing a total of £7,500 from four customers while working for the Royal Bank of Scotland in Aberdeen.
He had been on trial at the city's sheriff court, but was yesterday cleared of three counts of fraud.
However, the 28-year-old did not walk away completely free, as was fined £4,200 for selling the bank account numbers and sort codes of two other people on the "dark web" – a network of websites which allow people to use the internet without revealing their identity.
Rajiv, of 163 Hardgate, Aberdeen, previously admitted selling Lee Grant and Brian Cruden's personal information – although due to a blunder, the information could not be used.
Last month, the banker went on trial accused of concocting a scheme to drain £1,000 from 82-year-old Mable Moore's account and the same from retired couple Ian and Elizabeth Simpson's funds.
He was also accused of stealing £5,500 from Douglas Davidson.
Rajiv was alleged to have done this by transferring money to a PayPal account none of the complainers had any knowledge of.
The court previously heard that when police went to search Rajiv's home, they discovered personal banking information for a number of clients, including all four complainers, in his bedside drawers.
Upon searching his computer, police also discovered he had bank account numbers and sort codes saved.
Witness Steven Beveridge, a former fraud investigator at the bank, previously told the court that Rajiv had accessed the accounts of the four people an "excessive" amount of times in the days leading up to the cash being withdrawn.
But yesterday, during his final submission to the court, Rajiv's defence agent Andrew Ormiston argued that Mr Beveridge's evidence was opinion and not expert analysis, as he had by his own admission never worked in the retail banking sector.
He called on the court to disregard this part of the evidence, and Sheriff Edward Savage agreed to do so.
Mr Ormiston argued the evidence against Rajiv was wholly circumstantial and there was not enough to directly tie him to the offences.
He said that while there was evidence Rajiv had accessed the accounts of the clients, there was no proof that this had been done for criminal purposes.
Mr Ormiston claimed there was no evidence from PayPal to support prosecutor Colin Neilson's claim that Rajiv had used the website to transfer the funds from the three accounts.
He argued that while Rajiv had broken protocol by having the information in his flat and on his computer, it was not illegal.
Submitting there was no case to answer, Mr Ormiston appealed to the court to find Rajiv not guilty of the three charges.
Acquitting Rajiv of fraud, Sheriff Savage said: "This is perhaps suspicious, undesirable, and a matter of discipline, but it's not something that is proved beyond reasonable doubt."
The court then heard Rajiv had sold the account numbers and sort codes of Mr Cruden and Mr Grant using the "dark web".
Unbeknown to Rajiv, he had sold the details to a "covert internet investigator" who alerted the police.
Mr Ormiston said Rajiv had "become interested in the 'dark web'" and was not concerned about the money.
He had only received the equivalent of £50 in the digital currency, Bit Coin, the court heard.
Sheriff Savage ordered Rajiv to pay £4,200 within 21 months.
What is the 'dark web'?
The dark web, or deep web as it is sometimes known, allows people to use the internet anonymously.
A software known as Tor enables people to hide their IP address, a unique code that identifies every internet user.
It first gained widespread attention in 2009, with the online network known as Silk Road, an online "black market" where people used bitcoins to buy and sell goods.
A major investigation was launched in the US amid allegations it was being used to sell illegal drugs and weapons.
American law enforcement authorities also said it was being used to hire people to carry out murders.
Last year, Ross Ulbricht, from the US, was sentenced to life imprisonment without parole for being the creator of the network.
He is now due to go on trial on six charges of "procuring murder", however there have so far been no victims tied to the allegations.
Since Silk Road was taken down a number of networks have sprung up in its place.
Banker was 'voyeur' in dark web
The court heard Aditya Rajiv had entered the "dark web" as a "voyeur" and "observer".
Mr Ormiston said Rajiv had become interested in the secretive online community and the practices that went on there.
Rajiv had shown "great incompetence" while trying to carry out the exchange, where he traded bank account details for two Bitcoins, he added.
Mr Ormiston said he had mixed up key parts of Lee Grant and Brian Cruden's personal information, meaning they were worthless.
Had anyone tried to use the information, Mr Ormiston told the court, the authorities would have been immediately alerted.
"But it was still information that was disclosed and caused undoubted stress to those involved," he added.
Mr Ormiston said Rajiv had found himself in a difficult financial position due to the court case.
All but one of his accounts had been frozen and his savings had run out.
He said Rajiv was from a "wealthy and privileged" background and had grown up accustomed to the trappings of an affluent lifestyle, which made his actions all the more inexplicable.
The court heard that at one time Rajiv had a "great deal of prospects" within the financial sector.
Mr Ormiston told the court Rajiv was appealing his financial restrictions to help him to pay the fine handed out by the court.
Rajiv could also have his assets removed under proceeds of crime legislation.