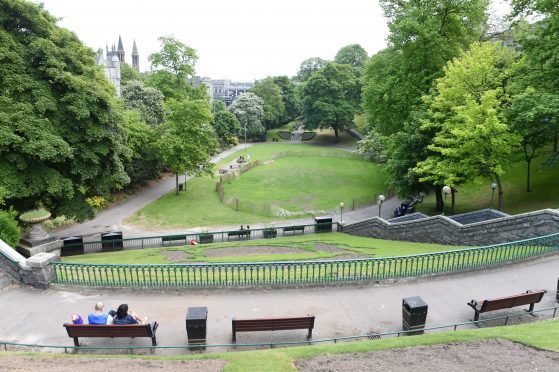 Early work to breathe fresh life into an Aberdeen city centre park could begin in the next three months.
Union Terrace Gardens is in line for a transformation, which will include fitting shops and gallery units into the park's arches.
The project could also include a bridge spanning the gardens from Belmont Street to Union Terrace. It is hoped construction will begin in autumn 2017.
And yesterday, Aberdeen City Council launched its search for companies to come forward with tenders to deliver detailed designs, site surveys, market research and business case studies.
The contract itself is worth up to £750,000 and July 26 to get their bids.
The council is hoping for the successful bidder to start work in early September.
A public consultation on the plans will take place once the company has been appointed to undertake the initial works.
Finance convener Willie Young said the local authority was keen to get moving, adding: "We have been very quick to get our procurement in so we can get moving.
"The council is going at speed to make sure we can develop the masterplan because that's what the people of Aberdeen want.
"We expect the work to be finished in 2019.
"These things take time but the important aspect is we will be in a position to determine bids in August or at the finance policy and resources meeting in September."
But the leader of the opposing SNP group claimed the work to transform the gardens was coming after "four years of inaction".
Councillor Stephen Flynn said: "The question members of the public will be asking is why has it taken so long?
"There have been four years of complete inaction before anything happened.
"The plans are part of the wider masterplan and as a group we will deal with that when it comes before it.
"The council administration promised action but it has taken four and a half years."