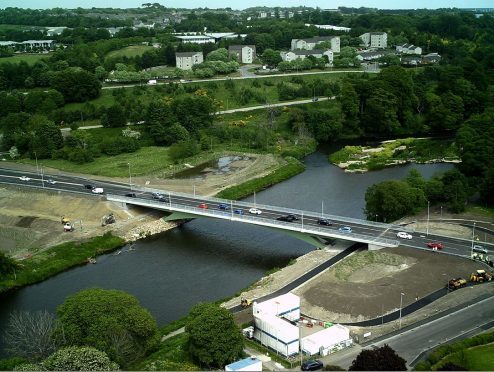 Nearly a quarter of a million vehicles, bikes and walkers have crossed Aberdeen's newest bridge since it opened a month ago.
Council figures have revealed that 240,772 vehicle journeys, 2,798 cycling trips, and 4,272 pedestrian treks were made over the long-awaited £22.3million crossing over the River Don between June 9 and July 9.
The total volume of vehicles southbound was 138,844, and northbound was 101,928, with 7,767 journeys a day made on average.
The link between Bridge of Don and Tillydrone, soon to be officially named the Diamond Bridge, has been designed to take 10,000 vehicles a day to reduce gridlock around the notorious Haudagain roundabout.
Council leader Jenny Laing said: "I am pleased to see so many people are making use of the crossing which transforms getting around the north of the city, particularly for people who live in the areas nearby.
"It is also good the crossing is being used regularly by cycling and pedestrians for their daily commute, and also that people are using it for relaxing at the weekend by going for a stroll or cycle by the river with all the wildlife you can see from the bridge or its surrounding paths.
"The new crossing is helping to alleviate congestion by taking traffic away from the other two main crossings at the Bridge of Don and Persley Bridge and I'm sure more people will have the benefit of it not just for their journey to work but also for leisure activities."
The figures showed the busiest day of the week for cyclists is a Monday, and that there were an average of 87 cycling trips per day with peaks during commuting hours.
The average daily number of pedestrians is 134, with a Thursday the busiest day, although there is a particular peak at about 2pm on a Sunday.
A separate official naming ceremony is to be held for the bridge at a later date – the pupils from the two local primary schools at Riverbank and Danestone overwhelmingly voted for Diamond Bridge, which is based on the Queen's Diamond Jubilee and
Aberdeen's historic ties with HMS Diamond.