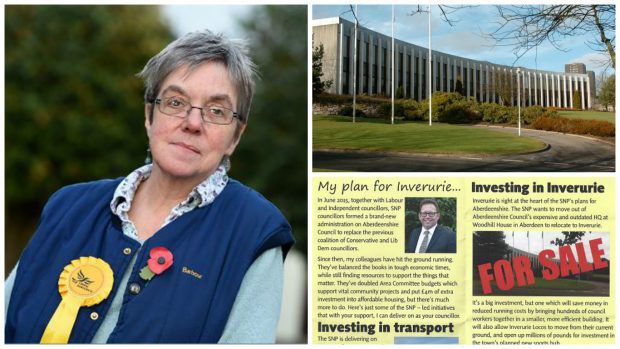 An SNP campaign leaflet claiming Aberdeenshire Council's headquarters is up for sale has been branded "misleading" after being sent out to voters.
The newsletter was sent to Garioch residents as part of the group's efforts to get candidate, Neil Baillie, elected at today's Inverurie and District by-election.
The mock-up image featured on leaflet shows the current HQ in the city with the words "for sale" in bold in front of it, despite the building not being on the market.
And last night opposition parties claimed the SNP had "crossed the line", having been locked in debates about the future of Woodhill House for weeks.
Last month the Press and Journal revealed the local authority was in discussions with Inverurie Loco Works FC about developing the Harlaw Park ground into the new central office.
The club would move to a new-look Garioch Sports and Community Centre.
The SNP say moving to Inverurie would be a "multimillion pound investment".
However the proposals have sparked a bitter row between the SNP and Labour-led council administration and their opponents, the Conservative-Liberal Democrat opposition group, the Aberdeenshire Alliance.
Lib Dem candidate for Inverurie and District, Alison Auld, said the leaflet was "misleading".
She added: "There is always some knock-about politics in by-elections, but with this leaflet the SNP have crossed the line.
"The facts are that Aberdeenshire councillors have not even seen a business case for moving the HQ anywhere, never mind deciding to sell Woodhill House."
And Tory candidate Colin Clark added: "This is typical of the SNP. They announce grand plans to re-locate the council HQ to Inverurie without even consulting elected councillors or providing any information on how it will be funded.
"Now they are claiming that Woodhill House is on the market when councillors have yet to agree that it should be sold."
But Mr Baillie said the council's Tory and Lib Dem parties had "blundered" in dismissing the potential move as a "vanity project".
He added: "Neither party has recovered credibility from that. Even now the links with potential investment in the town's sports facilities are known, it's revealing that neither the Tory nor the
Lib Dem candidates has been brave enough to say they would back the move if the business case supports it."
Council co-leader and SNP group leader, Richard Thomson, said: "These are nonsensical and desperate interventions from Tory and Lib Dem candidates who have clearly begun to realise that their parties have planted them on the wrong side of the HQ debate."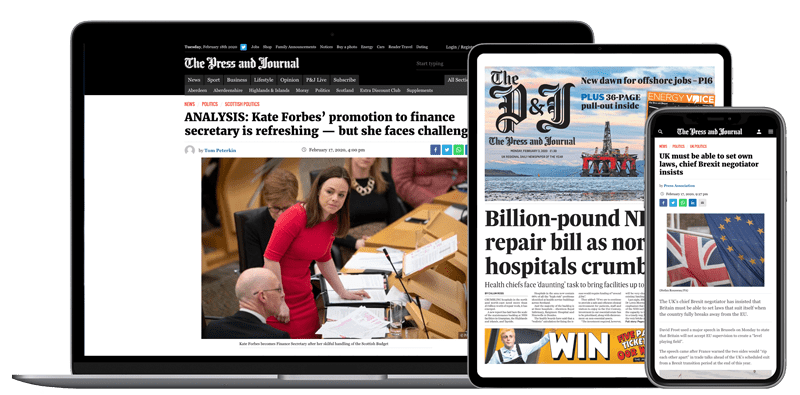 Help support quality local journalism … become a digital subscriber to The Press and Journal
For as little as £5.99 a month you can access all of our content, including Premium articles.
Subscribe