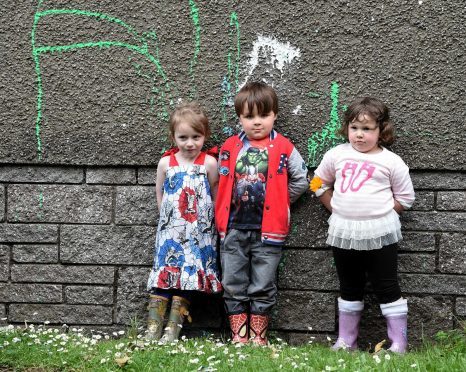 Heartless vandals have wrecked a children's play park in an Aberdeenshire village causing hundreds of pounds of damage.
The culprits targeted the Mearns Pre-School Club's garden, which is at Drumlithie Village Hall.
They smashed up a gate, storage locks and stole paint which they daubed on the hall building and the children's play house.
Police have now launched an investigation into the incident, which happened towards the end of last week.
Last night, Laura Fraser, pre-school manager, said she suspected the culprits were local teenagers.
She said: "The nursery garden is well used by the local kids and teenagers when we are not there and we've never had an issue with vandalism, so it's a bit disappointing.
"The children are obviously gutted about this, I spoke to them about it and told them the police were looking into it but I was actually surprised about how upset they were.
"For Drumlithie being such a small community someone will know something, the kids must have gone home with paint on their hands.
"We have a really good relationship with the local school so I have managed to send out notes to the parents.
"Even if we don't find out whose responsible hopefully it means something like this doesn't happen again."
The pre-school club currently looks after 11 children, aged between two and five.
It is run as a charity meaning the club could now be faced with a repair bill for the damage.
Police have appealed for any witnesses to come forward.
A spokeswoman for the force said: "Police are investigating reports of a vandalism in the area of Drumlithie community hall, Station Road, which is believed to have taken place between June 6, 2017, and June 12."
Anyone with information is asked to contact police on 101 or Crimestoppers on 0800 555111.