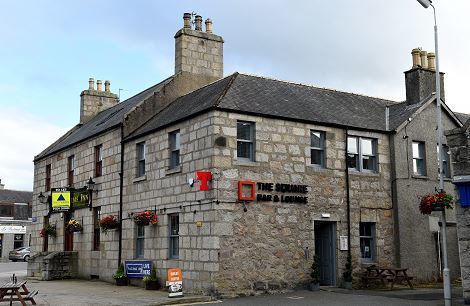 The owners of a popular Aberdeenshire pub claim they could be forced out of business due to planning red tape.
The Square Bar and Grill opened up in the B-listed building that used to house the Kintore Arms in April last year.
So far the pub – the only one in the town – has proved popular with locals.
But now management claim they could have to fork out thousands of pounds after falling foul of Aberdeenshire Council planners.
The bar's external sign differs from the one agreed with the authority, while owner Steve MacDonald – who also works offshore – built a beer store outside to store his barrels without permission.
But Mr MacDonald's mother Amanda, the general manager of the establishment, accused the council of being excessive in their demands – and they believe they will have to apply again, which they say will cost a lot of money.
She said: "It's do with the spaces between the lettering, it's different to what's in the original application – it's not like it's flashing neon.
"The cooler is like a shed, Steve built it for safety reasons so the barrels aren't lying around the side of the pub. It's also got an air conditioning unit which allows us to serve draught beer.
"It's going to cost a lot of money, once you get through the expense of the application and architects' fees – it's going to cost thousands, we're a small business and it's going to be hard for us."
"He (Steve) has always wanted this place and as soon as the got the opportunity he grabbed it, he puts his heart and soul into it."
But the council has said it is duty-bound to protect listed buildings and investigate any unauthorised work.
Aberdeenshire Council's head of planning and building standards, Robert Gray, said: "On the basis that the property is category B listed, the council is seeking to balance the needs of the business against the need to secure alterations sympathetic to the historic character of the listed building and the wider setting, including the A listed Town House next door.
"The planning service has been in dialogue with the agent and applicant since March on a number of issues relating to the property and has been trying to work with them.
"We offered significant advice and support and so far no formal enforcement action has been taken. Our desire would be to resolve this directly through discussion."