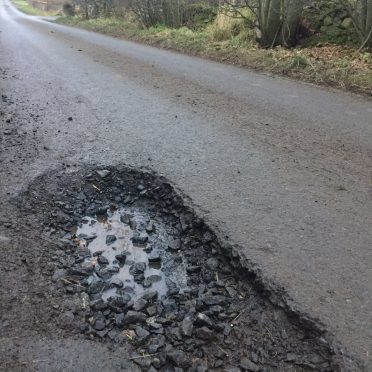 Some potholes could be left for up to a month before being repaired under a new roads strategy drawn up by council officials.
At present all potholes are given the same priority across the 3,425 miles of road and 1,035 miles of footpath in Aberdeenshire and fixed as soon as possible.
Under the proposed new plans, the depth and diameter of any hole would be assessed and rated according to risk and its position.
Those considered an emergency would be seen to within four hours.
But others would get attention only after seven to 30 days – and footpaths would only be assessed once a year.
Officials hope the system will help protect them when motorists sue over damage to their cars.
It was discussed yesterday at the Formartine area committee, where Councillor Anne Stirling said she was hearing "alarm bells" at reading some of the terminology being used.
She said: "The report mentions a 'minimum standard', how is that decided and by whom?
"And I don't see that footpaths should only be assessed annually."
Council officer Tom O'Connor was on hand to insist that they were "not reducing standards" and would still encourage members of the public to report new and troublesome potholes.
He added: "A new code of practice has to be complied with by October 2018 in line with the "Well-Managed Highway Infrastructure" published last year.
"It will mean a more planned response with emergency defects being fixed within four hours. Other categories would be fixed between 7 and 30 days."
The report states that a "consistent methodology" across the region for inspection and defects would assist when "defending any public liability claims" brought by road users.
Chairwoman of the committee, Isobel Davidson agreed that the wording was "of concern" but added: "The response time must be robust and I suggest that we look at other best practices such as clear and accurate mapping technology."