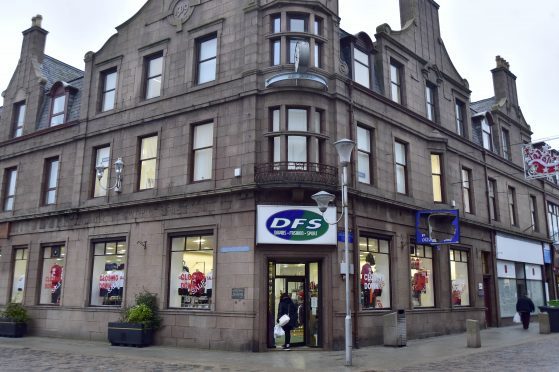 A mainstay of Peterhead's high street has announced it will close.
David's Fashion Sport (DFS) opened its doors on Marischal Street 20 years ago, selling clothing and equipment for a range of sports including football, rugby, basketball and golf.
But with the lease on the building going to expire in a matter of months, the owners have decided it is time to move on.
A closing down sale is already under way.
The move also means the loss of six jobs, one full-time and five part-time, although a date for shutting the doors for one last time has yet to be set.
Husband and wife team Graham and Anne Brownie opened the retail outlet in 1997, but once the shutters come down they will focus all of their efforts on their Inverurie store.
The lease on the property, which is owned by a private trust, expires in May.
Mr Brownie has been running clothing shops for 40 years having opened his first one in the 1970s.
He said: "I have been in sports retails since 1977 and started my first shop in Stonehaven.
"It was a bit daunting back then but it has been an enjoyable experience. We started off with jeans before moving into sport in the mid-1980s."
Mr Brownie said that when their Peterhead store does go it will be a major blow to the town.
He said: "It will be a big loss to the high street as it is quite a prominent site and is a lovely, lovely building.
"It is unfortunate, but sometimes you've just got to call it a day.
"The 20-year lease finishes in May so we decided not to continue beyond that.
"We will be left with one site in Inverurie in the interim and will just work from there."
Mrs Brownie has paid tribute to their customers and staff who have been with them over the last two decades.
She said: "We have been in Peterhead for 20 years and we have very loyal customers.
"The whole retail thing has changed now and people use the internet or go through to Aberdeen for shopping.
"We have had really lovely staff over the years and it will be sad to see it go, but things change."