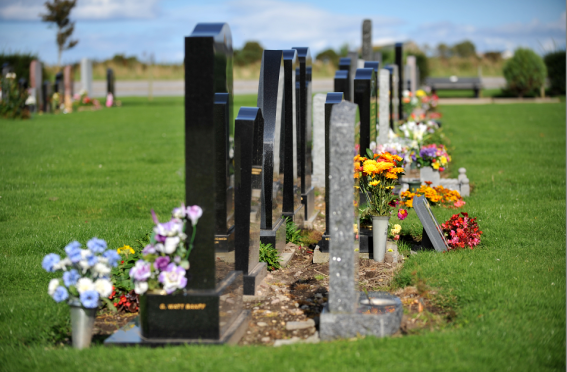 Grieving families could soon have to pay hundreds of pounds more to bury their loved ones.
Cash-strapped Aberdeenshire Council has unveiled plans which would mean the costs of interring people could jump by more than £200 on average by 2020.
The 25% increase over the next two years could save the authority £525,000.
But last night, critics of the proposals accused the council of "taxing the dead".
The proposal follows a survey into a range of services provided by the council as it attempts to get "full cost recovery".
Currently it costs £783 to pay for an Aberdeenshire resident's burial, but this could increase by 25% over the next two years to £978. Non-residents would face an increase from £1,369 to £1,711.
And the price of laying ashes in a casket lair could rise from from £408 to £601 for residents, and £842 to £1,052 for non-residents.
Last night Stewart Stevenson, SNP MSP for Banffshire and Buchan Coast, warned the costs would add more anxiety at an "extremely distressing" time.
He said: "Not only are the Tories trying to tax the lowest earners, they're now taxing the dead.
"For people who have lost a loved one, arranging a funeral and the finances of it are an additional worry at what is already an extremely distressing time.
"What's important to note is it's not the principle of increasing costs by a nominal amount, it's the scale of this increase over two years which will be difficult."
The changes are among a raft of proposals to save the authority money, with increased costs for animal licenses, dog warden services, food hygiene courses, tattoo licenses and harbour berthing fees also included.
A report to councillors on the survey, infrastructure director Stephen Archer states: "There was strong support for the general principle that fees charged should cover the cost of service delivery. A preference for the phasing of charges over two years was expressed, with some stating that significant increases would pose real difficulties to them. The greatest level of concern were expressed about the increases proposed for burial charges and some environmental health charges."
And last night Citizen's Advice Scotland said concerns over burial fees were justified.
Ruth Mendel, the charity's consumer spokeswoman, said: "Bereavement is a difficult time for any family, and the financial side of planning and paying for a funeral or cremation can of course compound the emotional difficulties, particularly for those who are on lower incomes or where the bereavement is unexpected.
"While we understand the financial pressures that local authorities face, we urge them to consider the impact that high burial charges can have on people at what can be one of the most difficult times in their lives."
The infrastructure services committee will discuss the proposals on Thursday.